About Me
Jesús del Monte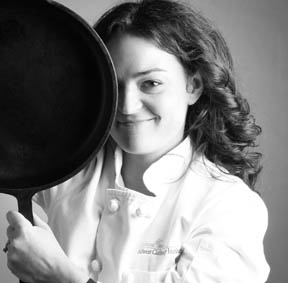 I'm Courtney Tsitouris and I started this blog in 2010 as part of a weird experiment. I wanted to see if I could bridge my passion for food and writing. Since then, my life has changed.
I took up culinary school at Midwest Culinary Institute and began recording my experiences. Several months later, I went from graphic designer to writer at a Cincinnati advertising agency and became a featured partner and blogger on Cincinnati.com. In late 2011, I published my first cookbook, Todd Kelly's Orchids at Palm Court.
In addition to taking on new cookbook ventures, I am also producing an original video series called Cincinnati Deconstructed, which profiles the people behind the food and dining scene in Cincinnati. I'm really proud of these things but mostly I'm thankful. I'd still be at a job I didn't like, day dreaming about roasted chicken if it weren't for people like you … reading right now.
Along with my husband and 2 dogs, I live in a "painted lady" in Cincinnati's oldest neighborhood, Columbia Tusculum. I can't live without peanut butter, I wouldn't want to live without Italian cheese and God help you if you try to take away my collection of olive oil.
Catch up with me on Twitter or Facebook. Feedback is always welcome at courtney601@gmail.com.
Cheers to you,