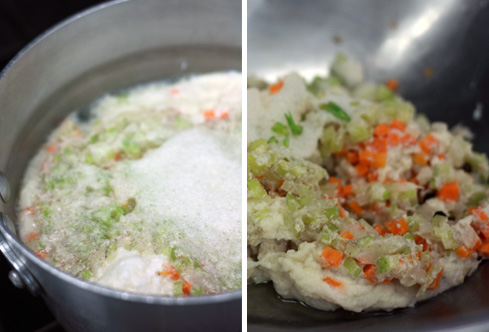 A consommé is a highly regarded, clear, rich stock and is virtually rid of impurities. You and I have both enjoyed consommés in French restaurants — sometimes as a base for French onion soup, other times straightforward with added leeks and carrots. In a classic sense, a consommé is one of the greatest luxuries in French cuisine.
The thing is, to make it, you have to construct one of the most disgusting floating objects in culinary tradition.
The floating object I am referring to is a mixture of egg whites, ground meat, lemon juice and chopped vegetables. After adding these ingredients and stirring vigorously with a whisk, this hideous combination rises and foams, forming a "raft" on the top of the surface. The purpose of the proteins and acids in the raft is to attract impurities in the stock so that they can be later strained off.
Of course, to me in the moment, the inflated, puffed up thing just looked like a grotesque mess. Maybe I'm not supposed to admit this readily but the process sort of caused the back of my throat to close up. Standing further back from the pot than usual, I was having difficulty accepting the fact that the clearest, most beautiful soup in the world was made by erecting the swamp monster.
I guess that's why I'm still a student. After an hour of simmering, I scooped up the raft with a large skimmer, as instructed, and discarded it. And what was left was this sort of amazing, aromatic liquid — a reduced, highly concentrated, completely clear soup. The smell alone had each of us hanging our heads over each of the pots, taking in the full aroma. I don't know much but I know that a consommé facial is about the most luxurious form of therapy in the world.
We used a chinois (a very fine strainer) to catch any remaining solids and poured them out. And later we added a bunch of vegetables to the pot and let them slowly bubble away until they were tender. The end product — a vegetable soup — was light but incredibly rich and ultimately, one of the most rewarding soups I've ever tasted.
[print_this]

Consomme
Ingredients:
1 quart chicken stock
1/4 lb lean beef, ground (we used ground chicken breast)
2 oz. onions, brunois
1 oz. carrots, brunoise
1 oz. celery, brunoise
2 oz. egg whites
1/4 oz. lemon juice
1-2 parsley stems, chopped
Pinch dried thyme
1 bay leaf
1 whole clove
4 peppercorns
Procedure:
Heat chicken stock over burner.
Combine beef, mirepoix, egg whites, lemon juice, herbs and spices in bowl. Add them to the stockpot and mix them vigorously with a whisk for 30 seconds. Keep pot on moderately low heat and bring to a simmer. When a raft forms on top, peel back a corner of it so that the simmering bubbles can get through. Otherwise, do not disturb raft.
After 1 hour, carefully remove raft with a strainer. It should be inflated and foamy. Strain consommé through a fine mesh strainer or chinois and season to taste.[/print_this]