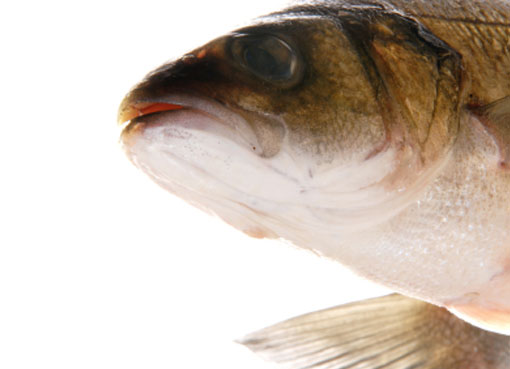 Fish out of water, as the saying goes, brings to mind a big, crazy looking creature, thrashing from side to side on the beach, struggling for his next breath. This, people, is why I hesitate to compare myself to one. I really much prefer you imagine me strutting around in the kitchen, chopping things here, saucing things there, earning the respect of everyone around. But I'll be honest — that big, crazy fish? That was me the other night. That big crazy fish? That's me all the time lately.
I wrote a feature article about Chef Julie Francis a few months back without the slightest inclination that I would later be asking to work in her kitchen. But that's just what happened. Last week, I took my first stab as a restaurant cook.
From the kitchen window, I watched 42 people file in the dining room and take their seats. There's a big mirror that hangs above one of the tables and I almost laughed when I caught a glimpse of myself decked out in a white coat and an apron. "Who's that marketing girl in the costume?" I wondered. I couldn't decide if she looked excited or confused.
My objective was to help prep for a five-course meal featuring eggplant in every round. It was part of the Nectar Dinner Club series, which Chef Francis boldly does a couple of times every month. I chopped herbs, made pesto, and picked through a crate of edible flowers. I broke them down into the garnishes that Chef Francis jokingly called "Eat, Pray, Love" confetti.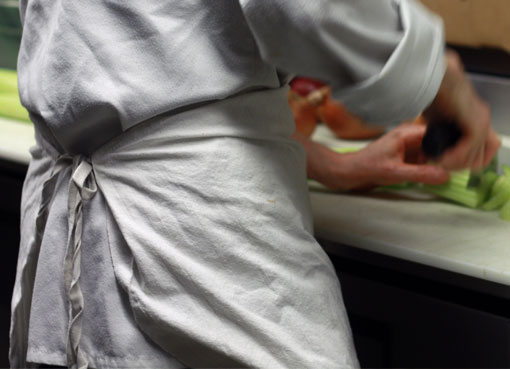 The real fun, though, didn't start until service when the other two prep cooks spread 42 plates out across the counter and began layering them with components. Francis and the two of them stood shoulder to shoulder, carefully stacking meat and garnish and sauce. Trying to insert myself into that process felt like running towards a swinging jump rope. But I did it anyway. I took a ladle when I was handed one and I became part of the lineup.
The good news is that being patient doesn't seem to exhaust Chef Francis the way it does me. [Insert image here of me tapping my foot, waiting for the light to turn green or the dryer to stop spinning or the coffee to stop dripping.] When I stacked the roasted peppers in the wrong place on the plate, for example, she moved them quietly and wiped after me. And when I chopped the parsley too big she was equally gracious. When I wasn't walking in circles, trying to locate the silverware or trying to work the dishwasher, I was thankful for that.
We finished early in the kitchen. So early that at the end of the night, I passed a bunch of diners as I headed for the door. I didn't even mind when I felt their eyes on me and my uniform. I've been in their seat, too. And even though I didn't quite feel like the person I suspected they thought I was, I couldn't wait to keep trying.
'Cause I'm nothing if not persistent.