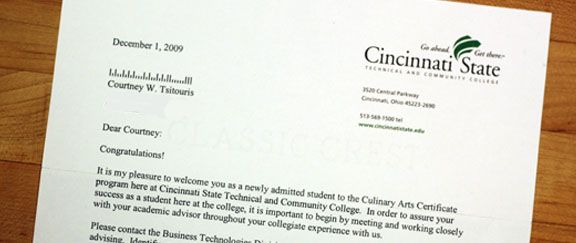 I just got my acceptance letter to culinary school at Cincinnati State. Not that it's hard to get in, but it's official now. No backing out. It's time to put on those checkered pants and get in line with all the other students.
Sometimes, when I close my eyes, I let myself imagine that I'm going to be a rock star in class. There I'll be, dicing onions with the fierceness and precision of Hung on Top Chef. All of the other, younger students will be in such awe!
But then I open my eyes and take in a big gulp of reality. There's also a distinct possibility that I will cut off one of my fingers on the first day and embarrass myself. That's something that I'd do.
Only time will tell but I'll keep you posted. That is, if I am not sending these posts out into a forever expanding, big, black hole.
Was that an echo?