When waking up like your heads been up against a board, it's important to evaluate the prior evening's decision making. Was anything broken? No. Were inappropriate arguments had or embarrassing confessions made? Maybe. Was the beer at least worth it all? Definitely.
As my head pulsates in aching waves of pain, I slowly recount the events that led to my destruction. It was a sunny, cool evening and the end of a long week. I wanted to take advantage of our growing collection of quality stout beers.
I poured myself a nice Young's Double Chocolate Stout and I drank it with my feet up — feeling the weight of the world lift slowly off my shoulders. Those thick, chocolate-laced suds slid down like cake at a birthday party. And then there was that Old Rasputin — rich, thick and impermeable to light. Maybe that's the reason I now feel like a train is pummeling through my head.
But man, it was good goin' down. In the spirit of hangovers that are worth the pain, the following are some of my favorite stout beers. Most of them have a high alcohol contant, so to avoid ending the evening with a lampshade on your head, drink 'em slow and easy.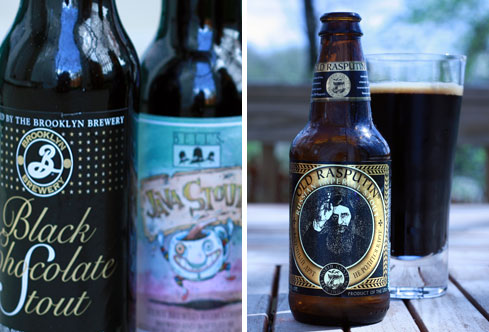 A Quality Stout Collection
queasily Young's Double Chocolate Stout: This is the beer got me into stout in the first place — probably because it tastes like a milkshake. Its long smooth, finish and creamy body is characteristic to a really delicious chocolate cake. Get out a fork and enjoy.
buy gabapentin usa Old Rasputin Imperial Stout: This is the beer drinkers beer and seems to develop a cult following wherever it goes. It's a rich, intense brew with big complex flavors and a warming finish. You may not need a fork with this one but you may need a knife. This is an all-out powerhouse stout.
Bells Java Stout: Lots of stouts lend themselves well to other flavors and in this case, a dark roasty coffee flavor is prominent. It's a marriage of Sumatra's best with rich chocolate and roasted malt.
Brooklyn Brewery Black Chocolate Stout: It's less refined and tastes more like beer than the other choices but it still carries strong notes of chocolate. Get it fast cause though, it's only available in the winter time (October – March). If you're food pairing, drink it with a strong cheese like Stilton.
Mt. Carmel Stout: I like this one partly because it's local. It has a dark, black color and a thick, light brown head. Edged with chocolate and coffee, its got a nice roasted flavor and a dry finish.