One of the perks of having a husband who works around the clock as an anesthesiology resident is that he has become rather obsessed with coffee. Which means that every morning I have the laborious task of deciding if I want espresso, french press coffee, drip coffee or Italian coffee.
I like them all but some of my best Sunday mornings have entailed drinking a piping hot cup of Italian coffee. It has a strong, concentrated flavor, somewhere between drip and espresso. It's simple, cheap and let's face it — kind of glamorous.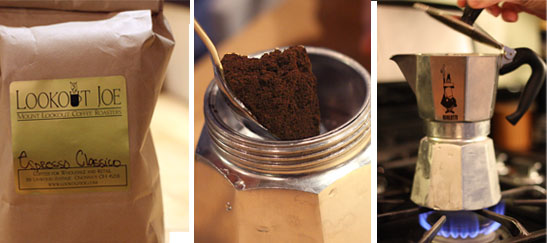 The most popular vessel for making it is the $20 Bialetti Moka Express, a handy little gadget that is used in households all over Italy. (Its invention in 1933 is credited for bringing espresso coffee from the coffeehouse to the home. It is so significant, in fact, that its blueprints are on display in the London Design Museum.)
Just fill the lower chamber with water and put ground coffee inside of the filter. Place the moka pot on a hot stove until intense pressure inside the chamber starts funneling coffee through to the upper chamber.
When the upper chamber is full of deliciousness, the coffee is ready.
Pour it in a cup and you're set with a very bold, smooth flavor. You can experiment with different coffee grounds to see which you prefer but I recommend the Lookout Joe variety.)
So, do you buy it? Or do you have another favorite brewing style?