Cincinnati's convenient proximity to Kentucky — where 95% of the world's bourbon is distilled and aged — gives us an edge when it comes to buying the really good stuff. Experts from Cork 'N Bottle and The Party Source are able to travel to surrounding Kentucky distilleries and hand select single barrel bourbons (that would otherwise not be single barrel) for our tasting pleasure.
Featured below are two worthy Kentucky bourbons from Cork 'N Bottle that are worth checking out. One is a great value and the other is pure luxury…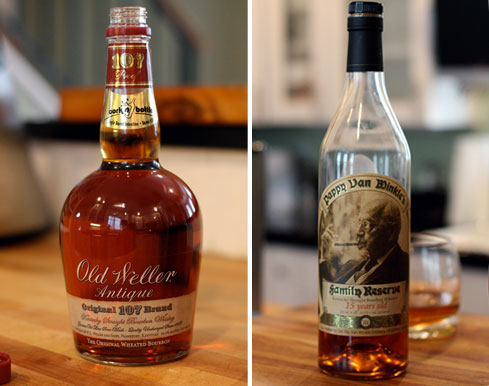 Best Value
Old Weller Antique Single Barrel
For the money, 20 bucks to be exact, you'll be hard pressed to a find a bourbon with this much kick. Aged 7 years and at 107 proof, this bourbon is incredibly smooth. Experts say that it's best on the rocks or with a drop of water to open it up. Of course, if you're in the mood for an Old Fashioned or a killer Manhattan, no one will hold it against you.
Cork & Bottle Description:
"Light oak on the nose with just a touch of oak sap. Take a sip and the dry oak is still there, but with a touch of cinnamon and some tantalizing sweetness."
Superior Taste
Van Winkle Family Reserve
Truth be told, some bourbons kind of turn my head around. Not this one. This small-batch bourbon includes a 15-, 20- and 23-year-old malt and is exceptionally smooth and dangerously easy to drink. Pictured above is the 15 year old variety for $50. Just be warned — it's incredibly rare. As one of the last whiskies that Julian Van Winkle II distilled at the Stitzel-Weller Distillery in Lawrenceburg, KY, there is a limited run.
Spirit Journal description
"The palate entry is spicy, piquant, prickly and raisiny; at midpalate the taste profile features lead pencil, slate, black pepper, brown butter, and deep-seared oak. Finishes with an ash-like, chewy, and oily aftertaste that's smashingly luscious…. American whiskey doesn't come any finer."