What makes up a great working kitchen? I actually bought my house in Columbia Tusculum from the General Manager of BOCA, and as you might suspect, he hooked me up with a pretty sweet kitchen. Its not that it's expensive, it's just that this guy had a really great sense of design and since he obviously cooked a lot at home, he installed some smart amenities.
Like the cold water spigot. Anytime I want to boil water, I just turn the lever on the spigot that is installed over the gas burners on my stove, and cold water flows into the pot. It saves me from having to heave a heavy, filled pot across the kitchen.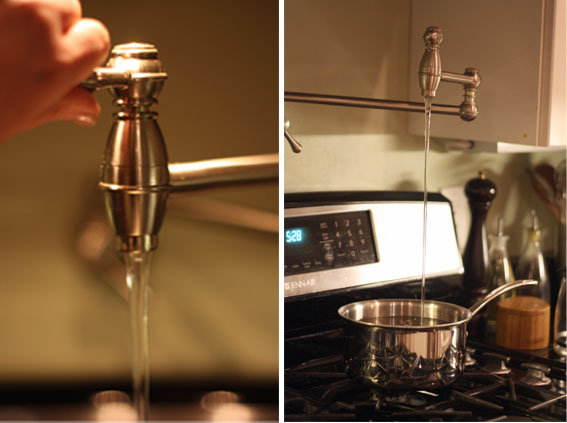 Plus, it avoids spillage. And anything that avoids mess is welcomed in my kitchen since I'm a bit — err– messy. I'm still working on being a neat cook. (I'm also working on mis en place but that's another story.)
So, what's in your kitchen that you can't live without? Or better yet, what do you yearn for that will make life that much easier?