A 13-year old girl whizzes by me in her wheelchair and parks herself next to my sister, who is slicing pieces of butternut squash. Her eyes are wide and as she carries on about her dream to one day become a chef, I notice bags of liquid attached to her chair. This girl — precocious, animated, curious — goes on to explain that she's fed through a feeding tube. It's a sobering reality, a hot, jostling slap in the face. But I'm not at the Ronald McDonald House to get sentimental. I'm here to cook.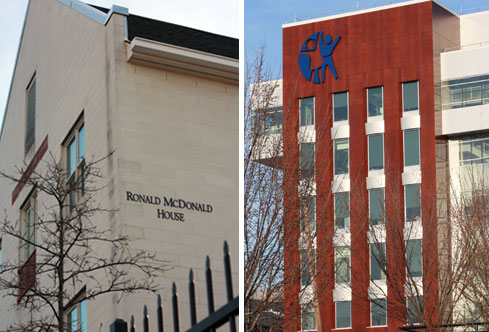 We're making dinner for 85 people tonight and all of them are in need of a square meal. In most cases, they've spent the day over at Children's Hospital getting care for a sick family member. Many of them have traveled across the country to be here. Several of them have traveled across the world. They're tired, they're worried, they've been put through the grinder. And right now, they're hungry.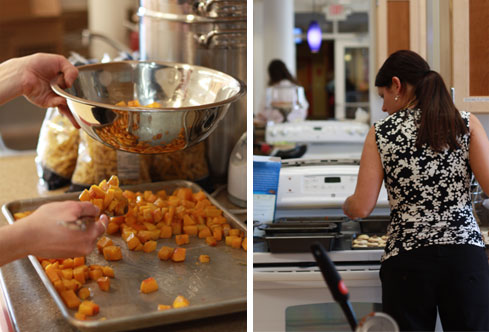 Years ago, when my mom was battling cancer, neighbors used to funnel through our house with casseroles and pies of every flavor. It was never about the food to us back then — it was about the connection. It wasn't chicken pot pie, it was compassion. I'll never forget the comforting, nourishing impact of homemade food from friends who were reaching out during a difficult time.
But tonight, at the Ronald McDonald house, connecting through food is on everyone's mind. 10 volunteers fan out in a well appointed kitchen with individual gas burners, ovens and sinks. Armed with recipes, ingredients and a heap of good will, we begin preparation for a homemade, Thursday night meal.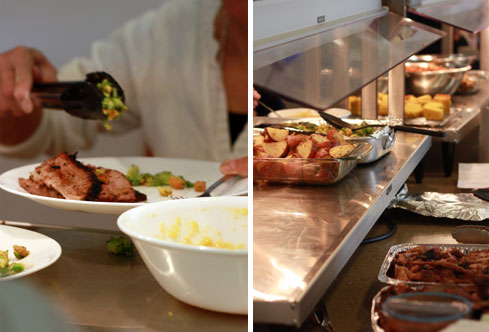 Over the course of two hours, we power through a few kinds of pasta, some roasted butternut squash, smoked pork shoulder, a few casseroles and a bunch of cookies. And by six o'clock, families are lined up at the buffet station ready to go.
Watching them pile plates full of food is a warm and fuzzy moment. We can't solve the big problems in their life but we can feed them a good meal. If we're lucky, maybe we can even remind them that they're not alone.
For anyone interested in cooking at the Ronald McDonald house, here's some details to get you started. Scroll down to the bottom for contact information.
Ronald McDonald Volunteer Specifications
Each group can have a maximum of 15 volunteers.
If providing a week-day dinner or a weekend meal, prepare enough food for 125 people.
If providing a week-day brunch or lunch, prepare enough food for 75 people.
When providing a salad, prepare enough salad for approximately 25 people only.
Breakfast is served at 9 am, brunch at 10:30 am, Sun- Monday lunch at noon, Sat. lunch at 1:00 and dinner at 6 pm. All meals may not be offered every day.
To volunteer, contact Lisa Davis at 513-636-2760 or email ldavis@rmhouse.org. Click here for more information.