Second Sunday in OTR is kicking off its 6th season this weekend, Sunday, May 9. Expanded to include Main, Vine and other streets between 12th and 14th, this event is a hip, urban street festival with bands, beer, food, artists and vendors.
The season will continue through September 12 on the second Sunday of every month from 12 – 5 p.m. One of its major highlights are the celebrity chef demos, which take place in the "Falling Wall" lofts at 1419 Main Street. This Sunday will feature Chef Jeremy Luers from Rookwood Bar & Restaurant in Mt. Adams. Rommel Wells will also be making craft cocktails for all to enjoy.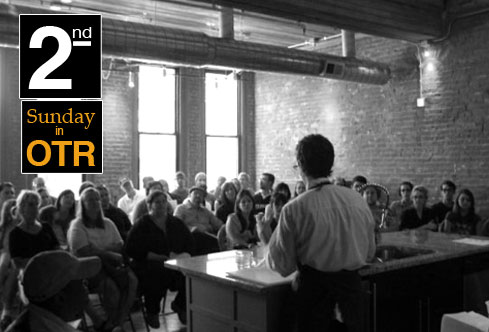 The chef demo is free and open to the public but there are only 50 chairs and 50 guaranteed samples. After that, there is only standing room. Doors do open at 2:00 p.m., so plan on getting there early.
Season Chef Demo Lineup:
http://smragan.com/tag/halloween/ May 9: Jeremy Luers & Rommel Wells (The Rookwood)
buy Pregabalin Lyrica uk June 13: Mark Bodenstein (Chalk)
July 11: Daniel Wright (Senate)
Aug 8: Jose Salazar (The Palace)
"This summer is going to be the tipping point," said Angela Morrow, C4Yourself Gallery owner. "My husband and I have lived in Over-the-Rhine for 9 years and closed on our home a week after the 2001 civil unrest. It has been a slow evolution but the OTR community and neighborhood is coming back to life. This summer everyone can experience the broad range of opportunities from Main Street to the Gateway Quarter."