When I first met Barb Cooper she was wearing fruit on her head. Not only was her straw hat adorned with apples, oranges and pears, but she was sporting tiny sunglasses and festive colored beads. It was Findlay Market's Marti Gras party, and Daisy Mae's Market was celebrating in style.
Barry, her husband and Daisy Mae's co-owner, just shook his head. "She gets into this stuff," he said smiling.
But Barb's enthusiasm and wild fruit accessories were only the beginning of a story that highlights why "buying local" warms the heart and satisfies the soul.
Daisy Mae's, a full time produce stand at Findlay market, is owned and operated by brothers Jeff and Barry Cooper. "Jeff had a dream," Barry recalls. "He loved the atmosphere at Findlay — the energy and the interaction — and he wanted to be a part of it."
When the opportunity at Findlay opened up, Jeff said, "Let's do this thing."

(Above: Barry Cooper talks to a Daisy Mae's customer)
So, they did. The pair packed up a trailer with mostly seasonal, local produce and set up shop full time at Findlay. Affectionately named after their grandmother "who always had gardens in Kentucky" Daisy Mae opened for business in November, 2009.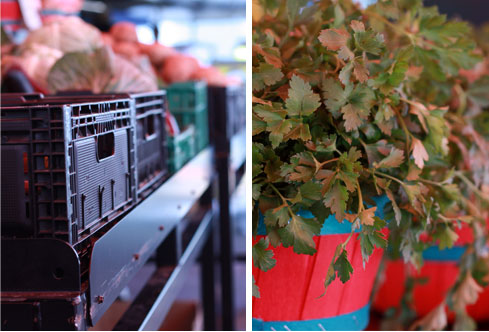 Instead of hauling boxes back and forth every night, the Coopers designed custom stands that could be quickly wheeled on and off the trailer. This kind of ingenuity made life easier and gave them more time to focus on other more important activities — like interacting with customers and building their brand through online social media.
For a new, small vendor, Daisy Mae's online presence is astonishing. Twitter followers and Facebook fans are frequently rewarded for their loyalty with discounts. Barb Cooper even created a Daisy Mae's Blog to connect with customers virtually. (Above: A Daisy Mae's volunteer passes out radish bouquets with slips of paper reading, "Follow us on Twitter.")
"Word of mouth has been amazing," she says. "We've seen a steady increase in customers every week with an awful lot of repeat customers," Barry adds.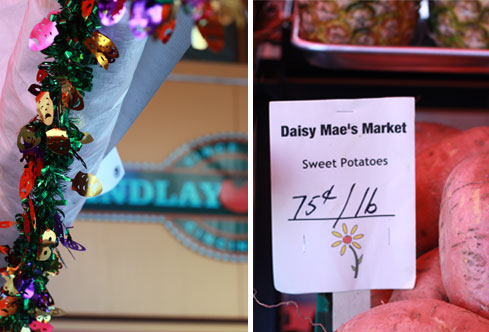 "People in the neighborhood really appreciate the quality of the products we're offering. They like the presentation and the clean looking tents. Plus, we'll talk to anybody. Our attitude is if you don't like it, talk to us and we'll fix it for you."
Daisy Mae's Market is open 6 days a week at Findlay Market.