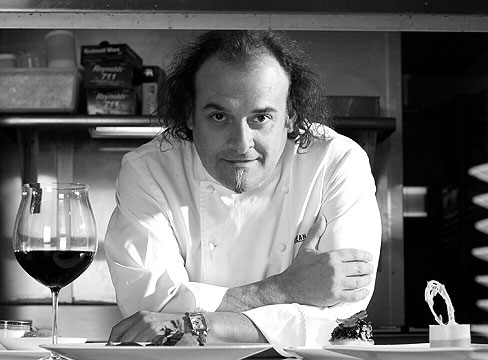 Seven years ago, Jean-Robert de Cavel and his wife, Annette, lost their baby girl to Sudden Infant Death Syndrome (SIDS). Seated on a stool, in the midst of construction in his new restaurant, five-star cuisine is the furthest thing from JR's mind. Cincinnati's most famous chef talks about how he helped turn his own personal tragedy into a triumphant annual fundraiser, Seven Days for SIDS.
http://justmusing.net/2007/05/30/lol/ "For Annette and me, it was really based on the knowledge that it can happen to anybody. There's no why or how. (Our baby, Tatiana,) was at the doctor two weeks before." Jean-Robert shifts in his chair and swallows a gulp of air. Though visibly choked up, he bullies his way through a stream of consciousness, his eyes wide and glossy.
"You realize you can go into depression, you can lose your job, your whole life can be completely… (his voice trails off) … because this happened to you. We are very lucky because we were able to have another daughter. It doesn't make us forget the first one, but it can help us to move on."
As he finishes this thought, two workers carrying a large wooden panel try to pass through the room. "It may be better to go through there," Jean-Robert says, pointing to a different section of the dining room. Meanwhile, ten feet away, a man rolls another coat of fresh paint on the wall. Jean-Robert himself wears the expression (and the clothes) of a man who has been lifting a lot of heavy things lately. But this doesn't seem to distract him now, as we talk about Tatiana.
http://pulsobeat.com/tag/john-wayne/ "Love your baby every day," he says. "It's not like parents don't. But this is a reminder not to take people for granted. People who lose a family member in a car accident feel this same way. You see the person now and then they are not there anymore. Sudden death is something that, as human beings, we have very hard time understanding."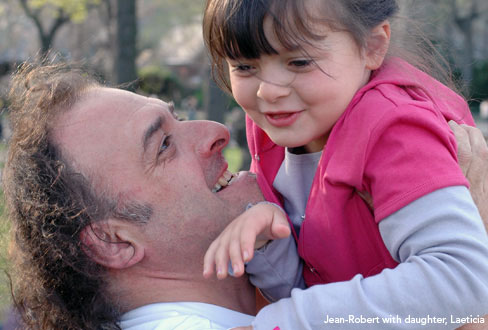 Which is why, eight years ago and with the encouragement of close friends, Jean-Robert and his wife founded Seven Days for SIDS to raise money and awareness for SIDS — a syndrome that affects more than 5,000 families every year. During this week-long event, participating restaurants donate portions of their proceeds to the foundation. The week is capped off with a brunch catered by top local chefs. (Restaurants include Cumin, Daveed's and Orchids at Palm Court.)
"I realized one thing––the most important thing we have is time," Jean-Robert says. "And when we give that time away to be part of a charity event, that is the most beautiful thing a human being can do."
Even so, planning an event that is flexible and convenient for other chefs is important to him. During the week, chefs contribute what they can, when they can. And Sunday brunch is a deliberately planned, family event.
"On Sunday mornings, chefs are usually off," he says. "Most restaurant people don't wake up before 11:00 a.m. and the late brunch gives every chef the opportunity to be with their family. Also, I didn't want my colleagues to try to work hard or impress anyone. This is just brunch. Still, it is amazing what people have done … the twists on brunch they have created. Most of these restaurants don't typically do this meal and so for them it's a chance to do something very different. I have seen duck confit and waffles and pancakes with fois gras and truffles …"
Of participating chefs, Jean-Robert says, "They want to show me the respect of being there for me. I can never be more thankful to David Cook (of Daveed's). Of course, he was my Sous Chef at Maisonette for many years and we have a friendship. But it's young chefs too … one who worked with me at one of the restaurants called and said he wanted to be a part of this event. He did it because he wanted to show respect."
The proceeds for Seven Days for SIDS goes towards helping grieving families who have been affected by the loss of a child. These family members may require medical help or need to take time off from work.
"People don't always see that," Jean-Robert says. "But the money helps with the aftermath. And the rest of it goes to research. We talked to a doctor — the main doctor in Boston — and he was very thankful because the money they receive throughout the year is not very much. The doctor is very thankful because everything helps. Ten or twenty thousand dollars a year is a huge amount of money to be able to learn more about the symptoms of SIDS."
"What touches me the most is when I see new parents of children who have died from SIDS. For them, it's a way to be able to show their love." Jean-Robert, eyes filled with tears, wipes his face and snaps his fingers sharply in the dust-laden, emerging restaurant space. "With SIDS, it can be gone just like that."
—
The Seven Days for SIDS brunch is this Sunday, June 13, 2010 from 11 p.m. to 2 p.m. Entry is $65 for adults and $15 for children under 12. Click here to purchase tickets. All proceeds go to the Seven Days for SIDS foundation.