At work, my cubicle wall is lined with stressballs. They come from my pal Dave, who offers them when I start hyperventilating from some sort of deadline. Dave, who once gave his hair to Locks of Love, is very zen and claims he's never screamed because his mouth is too small.
Our video editor shouts over the cube wall that my last blog post sounds like a Calvin Klein ad. I take the high road and make fun of his outfit, which is really just jeans and a t-shirt.
That's when one of the creative directors stops by with some advice. The surest way to avoid homeless people asking for money, he says, is to pretend you're talking on your cell phone. I offer another technique, which is to pretend you're about to be sick and to start running away with your hand over your mouth. His idea is more realistic.
I write a few scripts for a client pitch –– which somehow make their tangled way from the cutting room floor to a room full of VPs in a conference room. I hyperventilate again, do a secret fist pump and return to my cubicle where I spend the remainder of the day eating Starbursts and gripping stressballs. Periodically, the video editor shouts to tell me all of my sentences have only three words. That's when I know it's time to cook.
So, I go home to these Brussels sprouts. The little sluggers. I thought I had cooked them every way imaginable 'til I got my hands on this recipe from Saveur.
All you really have to know is this: after a long but rewarding day at work, a couple dozen cabbage-like creatures rolled in lime juice and vinegar, smothered in herb vinaigrette and flecked with rice puffs –– that's all I need to get by.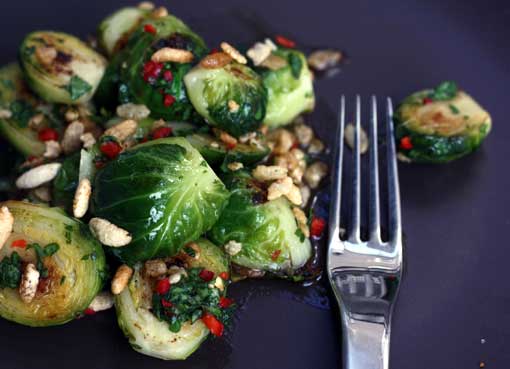 Cause tomorrow, it's back to the stressballs. Today, these sprouts are pretty much my world.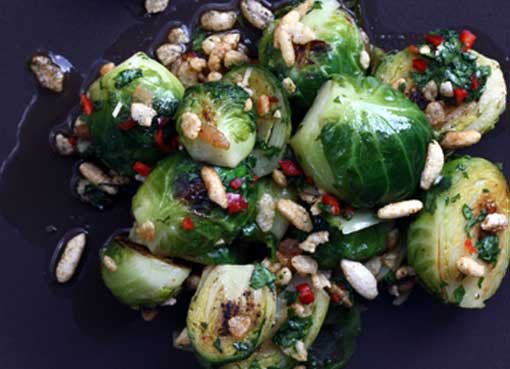 [print_this]

Brussels Sprouts with Herb Dressing
Ingredients
2 tablespoons vegetable oil
1/2 cup Rice Krispies or other puffed rice cereal
Kosher salt
2 tablespoons water
2 tablespoons sugar
1 tablespoon rice vinegar
1 tablespoon fresh lime juice
1 small garlic clove, minced
1 small red chile, minced
1/4 cup chopped cilantro
2 tablespoons chopped mint
4 cups roasted or boiled brussels sprouts (about 2 pounds), halved lengthwise
Procedure
In a large skillet, heat 1 tablespoon of the oil until shimmering. Add the Rice Krispies and cook over high heat, stirring, until browned, about 30 seconds. Season with salt. Transfer to a plate and wipe out the skillet.
In a small bowl, combine the water, sugar, rice vinegar, lime juice, garlic and chile and stir until the sugar is dissolved. Add the cilantro and mint.
Add the remaining 1 tablespoon of oil to the skillet and heat until nearly smoking. Add the brussels sprouts; cook over high heat, stirring, until charred in spots and heated through, about 5 minutes. Transfer to a bowl and toss with the vinaigrette. Just before serving, sprinkle the Rice Krispies on top and serve immediately.
[/print_this]