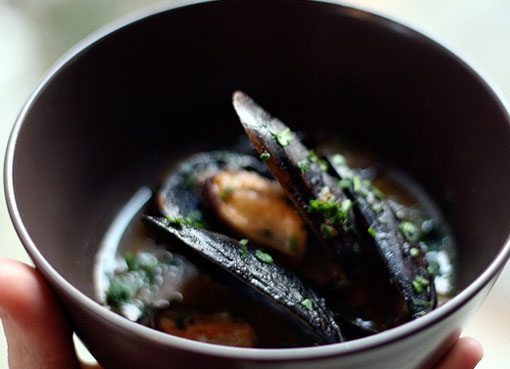 Another year gone by. Another surprising — often misguided — sometimes awkward — but always passionate adventure. As I write this, I'm sitting in my living room wondering what next year could possibly have up its tricky little sleeve. 2010 has been pretty special. Whatever happens in 2011, I hope it involves mussels. I hope it involves these mussels, right here.
In cooking, there's often one component, one mysterious component, that pulls a dish together and takes it from good to great. In Salad Lyonnaise, it's the garlic confit. Here, it's the soffritto and it's nothing short of spectacular — adding depth and richness to the mussels in a sauce that's incredibly rich and jammy.
This version of soffritto is slowly cooked onions in a bunch of extra virgin olive oil with an added cup or two of fresh, pureed tomatoes. And it's simmered for 4 hours.
Well come on! You can watch TV or do the laundry or write a short story in the meantime. All the while, your house will fill up with the most unbelievable aroma.
In the end, the soffritto is mixed with white wine and butter –– creating a highly luxurious steam bath for the mussels. When you close the lid, their shells magically open up and just like that, dinner is served.
Happy New Year, friends. Talk to you soon.
[print_this]

Mussels Marinieres with Soffritto
From Thomas Keller's Bouchon
Serves 4
Ingredients
For garlic confit:
24 cloves garlic
1 cup vegetable oil
For soffritto:
3 tomatoes
2 onions
1 cup extra virgin olive iol
kosher salt, to taste
For mussels:
2 1/2 lbs mussels or clams
1/4 cup olive oil
1/3 cup minced shallots
2 teaspoons minced thyme
kosher salt, to taste
4 tbs butter
1 cup dry white wine
2 tbs parsley, chopped
Brioche or crusty bread
Procedure
For garlic confit:
Put 24 cloves of garlic into a saucepot and cover with a cup of vegetable oil. Simmer for 45 minutes. Remove cloves of garlic and reserve for mussels. Reserve leftover oil for another use.
For soffritto:
Combine onions, oil and a pinch of salt in a small saucepan. Place over medium heat and simmer for two hours and onions are golden brown. Meanwhile, use a box grater to puree tomatoes, discarding skins and collecting the juice in a small bowl. Add tomato juice to onion mixture and simmer for another two hours, stirring every half hour.
For mussels:
Wash and debeard mussels. Heat a large pot (with a lid) and add oil. Add shallots and sweat for a minute. Add thyme, garlic confit, soffritto and salt and pepper. Stir and increase heat to high. Add butter and clams and stir.
Add wine, cover pot with lid and let clams steam for one to two minutes or until shells open. Spoon mussels and sauce into a bowl, garnish with parsley and serve warm with toasted bread.
[/print_this]