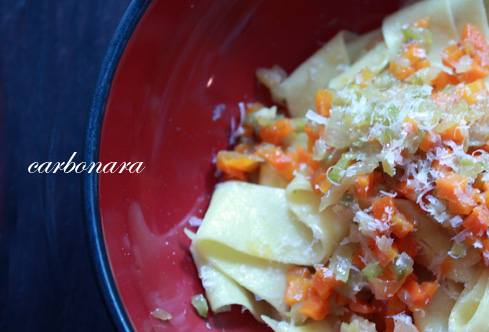 Here I go again, getting all riled up about something that's not in season, something that has nothing to do with light summer fare and everything to do with best place to buy isotretinoin online thin-cut pasta and a velvet-laced egg dressing. I'm not trying to be disobedient. But if you bear with me, you'll understand. Pinky swear.
This isn't just pasta carbonara with bacon and heavy cream, this is pasta carbonara with a miraculous combination of onions, carrots and celery, reduced in chicken stock and made silky with an egg yolk. Senhor do Bonfim If you're sort of dubious about perverting a classic dish, I understand. I would have never guessed how brilliant chopped mirepoix could be or how light and delicate it could make this dish. But then it happened.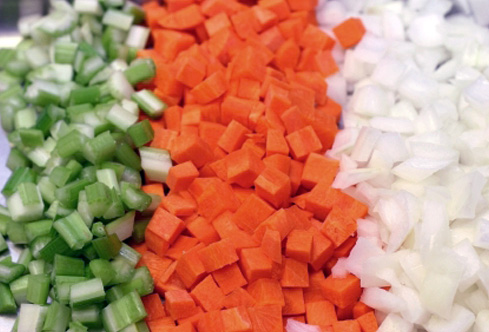 Just as the sun reached its highest point, I looked out in my backyard to see my husband, brother-in-law and dad hauling bags of mulch across the hill. Empty bottles of beer lined the deck but I could see they were going to need more than Amstel Light to finish the job. Frantically, I reached for the easiest, highest-carb recipe I could find. Enter this little number into my life. I'll never be the same.
As in all simple recipes, ingredients are important in this one. I can tell you this with clarity after having made this recipe three times since. You want the best pasta and the best chicken stock you can get your hot, little hands on. It's a great excuse to make your own stock but if you don't have the time, use a good store bought variety with low sodium and consider adding a little spoonful of base, which deepens the flavor and is now available at a lot of grocery stores.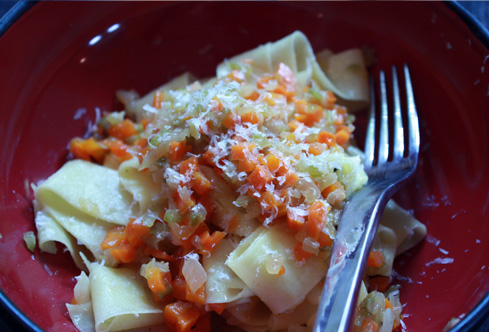 The other trick to this recipe is dicing your vegetables as small as you can. The experts call this cut a brunoise but for the purposes of this pasta, we can just call it teeny tiiiny. In the end, the vegetables become a sort of sauce for the noodles and so big pieces don't work.
Add hot stock slowly to the simmering vegetables–almost like you are making risotto–and when the pan is almost dry, they're ready. This will probably take two or three different sessions. Once the veggies have absorbed all that flavor, boil the pasta in heavily salted water. While the pasta cooks, add a couple of tablespoons of hot pasta water to a bowl with an egg yolk and whisk quickly. When the egg is tempered, add it to the saute pan with the cooked pasta and vegetables. Stir everything together for about 15 seconds. Sprinkle the whole thing with parmigiano reggiano (a little is enough but I like a lot.)
And that, my friends, is the key to a spin on classic pasta carbonara. We can say goodbye to bacon for one evening, can't we?
[print_this]
Pasta Carbonara with Mirepoix
Serves 4
Ingredients:
1 lb. pasta (tagliatelle or pappardelle works well here)
1 medium onion, very small dice
1 medium stalk celery, very small dice
1 medium carrot, very small dice
2 tbs. butter
1 egg yolk
2 tbs. water
2 cups chicken stock (add a small spoonful of base if desired)
Salt, to taste
Pepper, to taste
Parmigiano Reggiano, to taste
Procedure
Sauté carrots, celery and onion in butter over low heat until onions are translucent. Make sure to season your vegetables with salt. Add 1 cup hot chicken stock to vegetables and simmer over very low heat until pan is almost dry. Then add the other cup to the pan and repeat until pan is almost dry.
Boil pasta in heavily salted water until al dente. Add the pasta to the pan with vegetables.
Take 1 or 2 tablespoons of pasta water and add to a small bowl with 1 egg yolk. Whip the yolk with the hot water so that it won't curdle when you add it to the vegetables. Add the egg yolk to the vegetables and the pasta and stir for about 15 seconds.
Check for seasoning and add more salt and pepper if necessary. Sprinkle pasta with parmigiano reggiano and serve.[/print_this]