It feels ridiculous to be offering such a humble recipe after sucking down dirty martinis in swanky New York City bars, sashaying down Fifth Avenue and yes, breathing in the same airspace as Eric Ripert.
I admit, I hadn't worn heels in quite some time and walking on a downward slope took some getting used to. You will be pleased to know that I pranced on – unearthing every food destination that my wallet and watch could stand. A chef's tasting at Le Bernardin, another at Daniel and then almost literally bumping into Food Network's Anne Burrell who was walking her bike just outside Chelsea Market.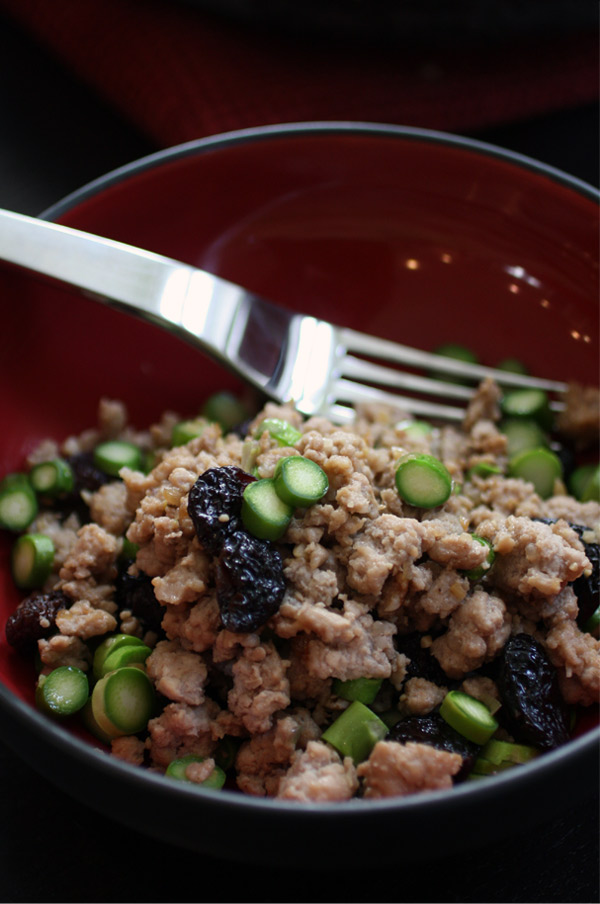 But even the high life has its consequences. There, standing outside our hotel, in the same place that Kim Kardashian gracefully posed for paparazzi on her reality show, I hailed a taxi in a dress that I worried was too short while the wind whipped my hair in 72 directions. This kind of glamor is stressful, as you can imagine, so I eventually conceded that coming home to my snarling dogs and frumpy closet was really a blessing in disguise.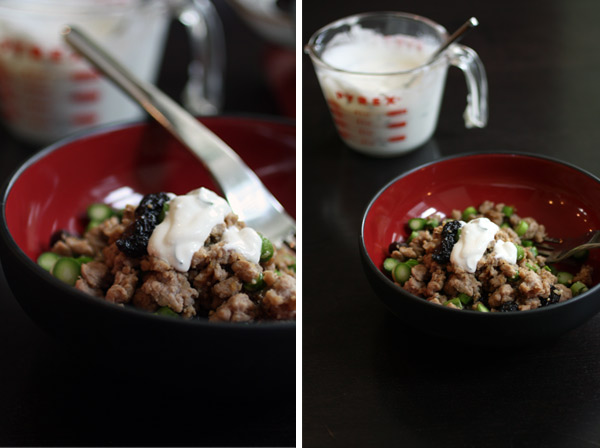 And anyway, lamb with asparagus isn't exactly something to sneeze at. Especially because they incorporate Bing cherries as you can see here. I will pause for you to be thoroughly impressed.
The original recipe, which is really a glorified hash, comes from Stephanie Izard and calls for fresh peas. But for the last couple of years, I've been pretty taken with the idea of slicing asparagus into coins. The snappy little pieces barely require any cooking. And the Bing cherries? Just the proper amount of zing. But what really sets this thing over the top is the miso paste, which is stirred into the meat before it hits the pan, adding an unfamiliar spike of earthiness and richness.
On second thought, maybe my modest little kitchen doesn't feel so far from NYC after all.
[print_this]
Lamb, asparagus, cherry hash
Recipe from Stephanie Izard's A Girl and Her Kitchen, just ever-so-slightly altered. She uses this "hash" as the bed for her Arctic char, which is a take on surf-n-turf and an idea I love.
Ingredients:
gloatingly For the mint yogurt
½ cup plain Greek-style yogurt
3 tablespoons half-and-half
1 ½ tablespoons fresh mint, finely chopped
Salt and freshly ground black pepper, to taste
http://kaminakapow.com/seamless-crochet-donkey-pattern/?unapproved=9911 For the lamb-cherry hash
Salt, to taste
2 bunches asparagus, sliced into coins
2 teaspoons olive oil
1 shallot, minced
2 cloves garlic, minced
12 ounces ground lamb
2 teaspoons white miso paste
½ teaspoon soy sauce
Freshly ground pepper, to taste
12 Bing cherries, pitted and quartered (you can used the dried variety or just substitute another kind)
Procedure:
For the mint yogurt
In a small bowl, whisk together the yogurt, half-and-half, and mint. Season with salt and pepper and refrigerate.
For the lamb-cherry hash
Heat the olive oil in a large sauté pan over medium heat. Add the shallot and garlic and sweat them until they are translucent but not browned, about 2 minutes. Increase the heat to medium-high. Add the lamb, miso, and soy sauce and combine. Cook until the meat is browned, 5-7 minutes. Add the asparagus and cook 2-3 minutes more. Season with salt and pepper to taste, and then add the cherries, stirring to heat them through. Turn the heat down to low and cover to keep warm.
[/print_this]