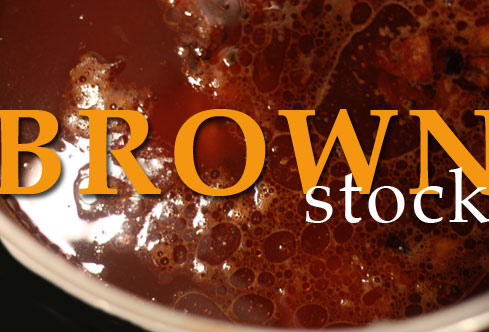 I don't know if I can contain my excitement for homemade brown stock but I'm going to try. Because I sort of think you might be sitting there wondering why it is you're being asked to simmer bones in a pot of water all day. But picture me here, my hands and arms animated, my eyes big like saucers.
You should not have to live another day without brown stock in your refrigerator. Once you make a big pot of it, you can freeze it and take it out as you need it. Then you can use it to make more complicated sauces that will absolutely transform the way you cook at home.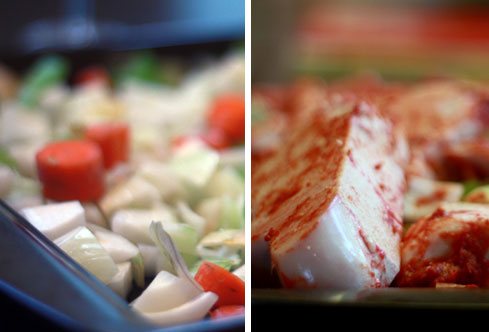 Brown stock really is one of the most important flavor vehicles. Take Espagnole Sauce (often called Brown Sauce) for example. Espagnole is one of the five Mother Sauces in French cuisine and its base is a good brown stock. Once you've got it simmering and reducing in a pot, you can transform it into a demi-glace. And one of the most delicious, most lavish sauces in the world is a great demi-glace. I experienced this firsthand on Mother's day, smothered over a piece of beef tenderloin.
Sunday dinner, which is usually an absolute circus at my mother's house, was no exception this past weekend. Between me whirling around in the kitchen, my sister tending to her two young sons, the TV blaring Thomas the Train and a houseful of people milling around nibbling small bites and socializing, it was a marathon of chaos.
But come supper time, we usually quiet around the dining room table. Bottles of wine are popped, people settle into their chairs and we find time to connect. It is often my favorite part of the week. And an added bonus: this Mother's Day marked the first time I was able to share something really tangible that I had learned in culinary school. It was brown stock converted into velvety demi-glace, spooned over fillet mignon and mashed potatoes. I want to share with you the first part of the process for making demi-glace –– a simple recipe for brown stock that's as practical at home as it is in restaurant kitchens.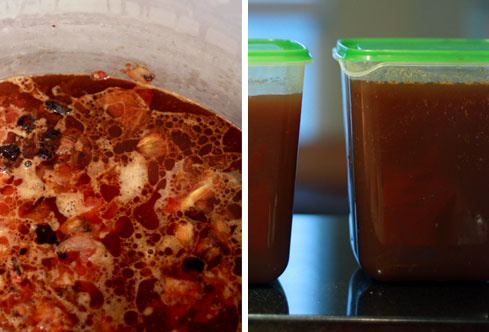 Of course, the difference between white stock and brown stock is that the bones are roasted along with the mirepoix (chopped onions, carrots and celery) before being added to a stockpot with water and simmered for 8-10 hours. What makes the stock brown, in this case, is the tomato paste which is added before the bones and vegetables are roasted. Be careful not to burn the bones while browning them because this will lead to a bitter end product.
Simmering the mixture all day allows the marrow to dissolve and the bones to release their gelatin. It sounds like a big project, but the truth is that you can do it while you're tending to other projects around the house. And believe me when I say that you'll be setting yourself up for months of amazing meals. Believe me when I say, it's absolutely worth the investment of time.
Without further ado…
[print_this]

Basic brown stock
Ingredients:
5-6 lbs veal or beef bones
5-6 quarts cold water
1/2 lb onion
4 oz carrot
4 oz celery
1/2 lb tomato puree
1 Bay leaf
1/8 tsp dried thyme
1/8 tsp black peppercorns
4 parsley stems
1 whole clove
Procedure:
Rinse the bones in cold water and pat dry. Place the bones, tomato puree, chopped onions, celery and carrots on roasting pan and mix together.
Bake at 400 degrees until well browned, about 1 hour.
Remove bones and vegetables from pan and put in heavy stockpot, cover with 1 inch of water. Deglaze roasting pan with 1/2 cup water and pour into stockpot. When mixture come to a simmer, toss in the bay leaf, parsley, clove and peppercorns.
Simmer mixture for 8-10 hours, skimming fat from the top as necessary.
Strain the mixture, discarding the vegetables and divide the stock into smaller, more manageable containers for storage.
Cool the smaller containers in a sink filled with ice water and then store in the refrigerator for later use.[/print_this]