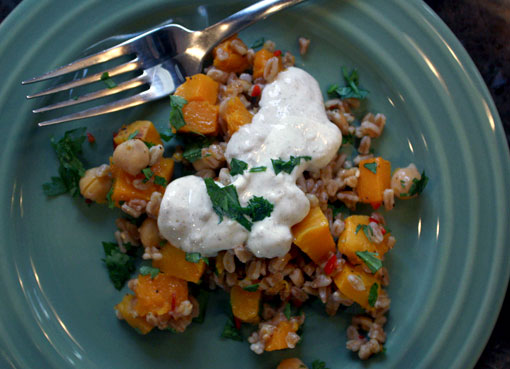 The person who advised us never to bite off more than we can chew was either very bored or very hungry. I try never to be either, especially in the winter when there's a whole new set of big, bold ingredients to unload in the kitchen. After all, when it's cold outside, I don't want light, prissy recipes. I want food that slaps me on my back, locks my head in its grip and gives me a noogie. Which is to say, when it comes to the salad course, I want one just like this.
Of course, I still want to believe that I don't ask for much. Just for enough kick to make me feel some kick-back. Just for a couple of serrano peppers, some sweet, roasted squash, and the creamy mouthfeel of velvet. But that's not true. I want it all. I want chopped cilantro and toasted chickpeas. I want warmth and comfort after a cold day. I want my winter salad and I want to eat it too.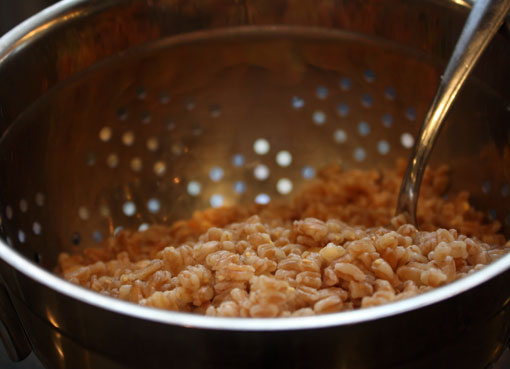 Thankfully, I can follow this simple recipe anytime I feel like having it all in under an hour. Because here, a cumin-laced dollop of yogurt mingles with garlic infused farro. A touch of balsamic happily marries the nutty essence of toasted chickpeas. In the cold beginning throws of November, there are no happier couples on earth than those in this roasted squash salad –– and there are no happier eaters than those who are shoveling forkfuls of it into their mouths.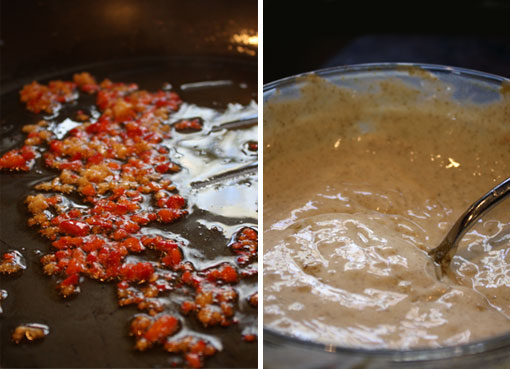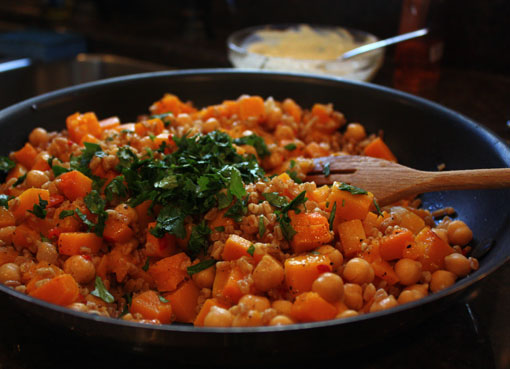 Needless to say, I believe that the next few months should be about comfort. Especially when it's chilly outside. Especially when this salad is warming on the burner, filling the house with it's spicy, lingering aroma and begging us to sneak a spoonful before dinner.
Which just goes to show that no matter what they say how or how compelling they say it, they're wrong. It's always better to bite off more than we can chew. It's just too delicious.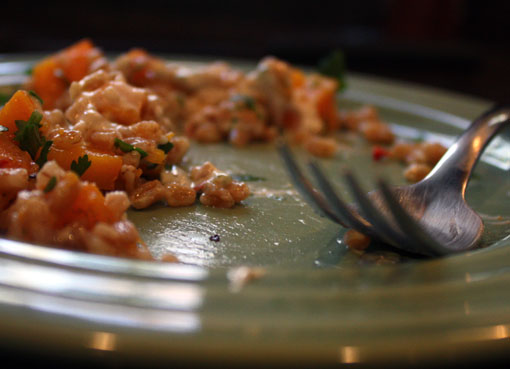 [print_this]

Roasted Butternut Squash Salad with Farro, Chickpeas and Cumin-Yogurt Dressing
Ingredients
1 medium butternut squash, peeled and cubed
2 cups farro
2 cloves garlic, minced
2 medium serrano peppers, minced
1 14 oz can chickpeas, drained
3 tbs ground cumin
1/2 lemon
1 cup greek yogurt
2 tbs balsamic vinegar
3 tbs gruyere cheese
1/2 cup cilantro, chopped
drizzle canola oil
kosher salt, to taste
ground black pepper, to taste
Procedure
Preheat oven to 350 degrees. Peel butternut squash with a peeler, cut into cubes and place on a foil-lined baking sheet. Sprinkle with canola oil and kosher salt and bake for 30 minutes or until tender.
Meanwhile, cook farro until al-dente according to package instructions. Strain and set aside.
Make cumin-yogurt dressing by combining yogurt, cumin and lemon in a small bowl. Season with salt. Refrigerate until ready to serve.
Sauté serrano pepper and garlic in a medium saute pan with a drizzle of canola oil over medium-high heat. Season with a pinch of salt. Add chickpeas, farro and mix well. Season again with salt. Add balsamic vinegar, cheese and top with chopped cilantro.
Check for seasoning. When ready to serve, top with a dollop of cumin-yogurt dressing and an additional pinch of cilantro.
[/print_this]