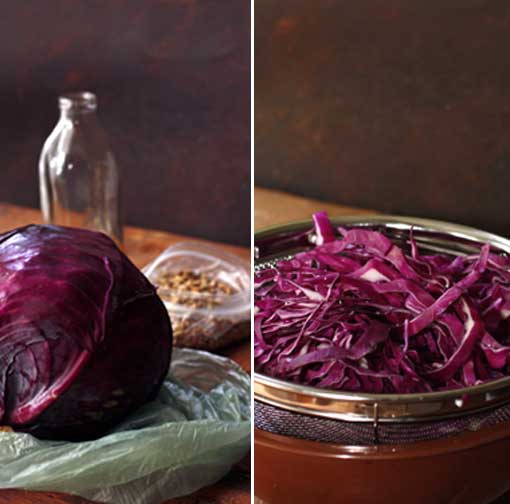 Maybe I write because it's impossible to be what I'm not when my words are marching across the screen, crossing their arms like a pissed off teenager and demanding the truth. I write, I guess, 'cause it feels honest. I imagine, in a cross universe of vegetables, that's how red cabbage feels.
Humble in presentation (unlike those trendy little foxes, kumquats!) and never afraid to keep it real (despite its bitter reputation). This is a recipe I came by and couldn't resist because it turns something really earthy and simple into a sophisticated, dignified, completely balanced side dish.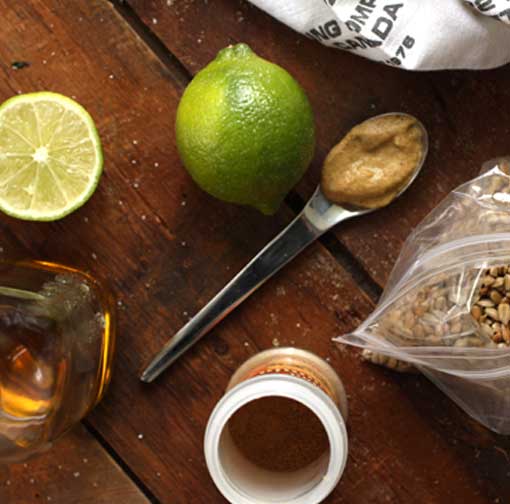 It's just a cabbage recipe, after all, and there's actually no heat involved in the cooking process. A tablespoon of kosher salt forces the leaves to wilt –– prepares them to suck up the flavor in a vinaigrette made with lots of lime, a little bit of Dijon mustard and oil.
First there's crunch, then brightness from the vinaigrette. Finally, a karate chop of sesame seeds. You'll ask yourself … am I really eating cabbage here? Voluntarily?
And the answer would be yes. Because cabbage doesn't have to change to be delicious. Paired with a few simple ingredients, it can let its natural bitter notes shine. And it can finally be admired – even craved – just for being itself.
[print_this]
Red Cabbage with Sesame Vinaigrette
Serves 4 Ingredients
1/2 red cabbage, cored and shredded
1 tablespoon kosher salt
1/4 cup lime juice, about 2 small limes
1 tablespoon Dijon mustard
1/2 teaspoon cumin
1/4 cup sesame oil (substitute peanut oil or canola oil if necessary)
1/2 cup sesame seeds (substitute peanuts for another great combination)
Freshly ground black pepper
Chopped cilantro, for garnish
Procedure
In a large bowl, toss the shredded red cabbage with salt. Transfer the cabbage to a colander and let drain for at least one hour to wilt. Transfer the cabbage back to the large bowl. Whisk together the lime juice, mustard and cumin and slowly stream in the sesame oil. Add to the cabbage. Top with sesame seeds and season with salt and pepper.
[/print_this]