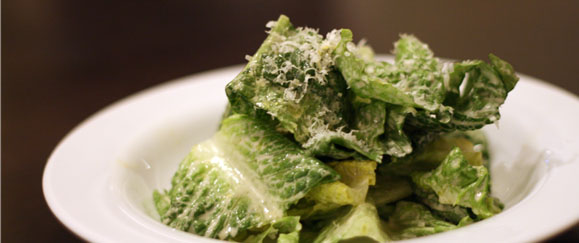 I have been fanatical about Caesar salad all my life. Come to think of it, it's my first "taste memory." I love it. I adore it. And I have cooked dozens of different preparations before finally deciding on one buy disulfiram online canada unbelievable recipe.
Before I pass it along, you have to agree to 2 simple truths about what constitutes a really great Caesar dressing. Are you ready?
Here they are….
buy Pregabalin 150 mg online There are anchovies involved. Don't be squeamish. The dressing won't taste fishy, I promise. The purpose of them is to add depth of flavor. You won't know they're there.
Raw egg yolk is involved. There is nothing worse to me then mayonnaise as an egg substitute in Caesar salad. It tastes watery and medicinal. You won't get sick or die from the yolk part of an egg.
Now that that's out of the way, everything else is embarrassingly simple. Here goes…

[print_this]

Ceasar Salad My Way
First, chop up "the big three." That's a heaping spoonful each of chopped capers, garlic and anchovies.
Toss them in a blender.
Then, throw in an egg yolk.
Add the zest and juice of 1 lemon.
Grate about 1/4 cup of Parmigiano-Reggiano into the blender.
Add two pinches of salt and one pinch of pepper and blend for about 30 seconds. (If you mixture is too thick, you can add a few tablespoons of water.)
Continue blending, and very slowly stream in 1/2 cup of canola oil and 1/2 cup of extra virgin olive oil.
Chop some romaine lettuce, and dress the salad. Lightly, of course. Just enough to coat the lettuce.
At the end, I like to add a couple of tablespoons of Extra Virgin Olive Oil and Parmigiano.
Eat and enjoy!
[/print_this]