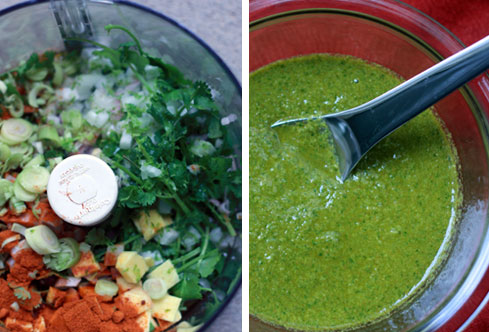 This weekend I fell in love. And of all things to become head over heels for, I fell in love with something that I already really, really had a crush on. I've always savored shrimp dunked in a pool of spicy cocktail sauce or wrapped in bacon or fresh, squeezed with lime juice. I've known it to be decadent when crushed into a soup or mixed into a seafood paella. But now, dear readers, I know it to be irresistible, yes irresistible, when surrounded by a swirling ocean of coconut curry sauce.
To be quiet honest, Thai cooking has always intimidated me. The last thing I want to do is upset the fine people of Thailand by using the wrong ingredients or incorrect proportions. But this weekend, I felt I really owned it to my husband who had been digging big, muddy garden beds in our yard all day. (I'll save my disdain for planting seeds and gardening and being forced to wait for the benefits of time later, but for now just know that I was really happy it wasn't me out there with a shovel.)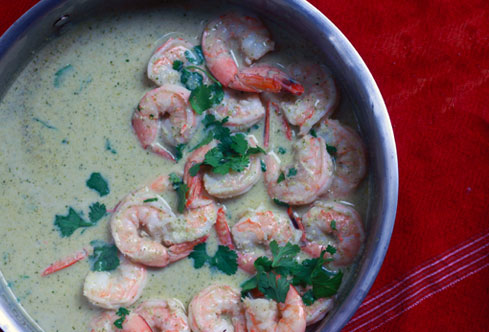 When a boy who is not particularly handy has been sweating in the sun doing things he'd rather not be doing, it's best to sustain him with food that makes him happy. In this case, it meant making something spicy and something soulful. Inspired by a recipe from my culinary school textbook and after having conducted further research, I began production for this coconut curry shrimp dish based on a classic green curry paste.
Because Dustin has instilled in me a love of all things spicy (that and a love for GQ Magazine and bourbon … should I be concerned?) I am now somewhere between a proud five and a showboaty seven when ordering Asian at a restaurant. If you're not so keen on heat you can easily control it here based on how many chiles you use. Just remember, the sweetness from the coconut milk will help balance everything out. I served the shrimp straight from the pan with a bunch of freshly picked cilantro and another squeeze of lime.
If you ignore that I did not use enough shrimp and that I'm getting hastier and hastier with my photography, you'll find that this dish packs some serious attitude. Yes, another example of risk taking paying off in the kitchen. Along with the subtle throb of heat, the shrimp was sweet, the lime was bright and everything made one budding landscaper very, very happy.
[print_this]

Green Curry Shrimp
Yields about 1 cup Thai Green Curry Paste
Ingredients:
1 stalk lemongrass, minced
1-3 green chilies, sliced (Thai green chilies OR jalapeno)
1 shallot, sliced
2 cloves garlic
1 thumb-size piece of galangal (I used ginger, thinly sliced)
1 compressed cup chopped fresh coriander/cilantro leaves & stems
3 Tbs lime
1/2 tsp. ground cumin
1/2 tsp. ground pepper
1/2 tsp. ground coriander
3 Tbs. fish sauce; Vegetarians: substitute 1 Tbsp.
1 cup coconut milk
1/4 cup dry white wine
3/4 cup well-stirred canned unsweetened coconut milk
2 cups heavy cream
1 lb cooked shrimp, shelled and deveined
Procedure:
Use a food processor to grind first set of ingredients into a smooth paste. Set aside. Leftover paste will keep in the refrigerator for up to a week.
Add white wine and boil until liquid is reduced to about 1/4 cup. Add coconut milk and cream and boil, stirring occasionally, until thickened slightly. Stir in 1-2 tablespoons of curry paste. Season sauce with salt and pepper.
Add shrimp to skillet to reheat and integrate with sauce.
[/print_this]