I used to collect stamps. Okay – I wanted to collect stamps. But one birthday gift and a stamp set later, I realized I had no patience for stamps at all.
I switched to coins. As it turns out, I did not care for those much either.
I was searching for something to curate. For a set of belongings to identify me — to tell the world who I was. It took me another twenty years to realize that what I really wanted to collect was ingredients.
A jar of capers. A bunch of parsley. A few lemons. A whole chicken. Now these are thing you can actually use.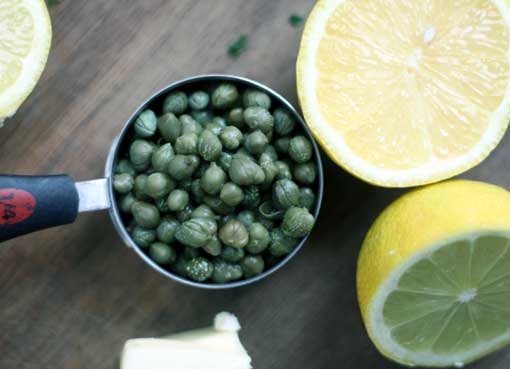 On a Sunday night after a long day: we have a sick family member (prayers, please) and let's just say many of the members of my clan were short tempered and low energy. That's when collecting things came in handy.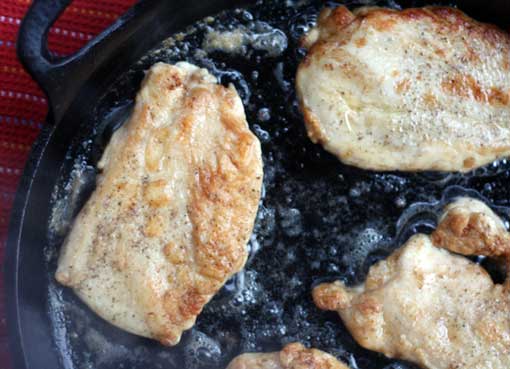 But it's not just the ingredients we had on hand – it was a simple recipe in our back pocket. A dish we grew up on and one that's easily prepared in short order. No doubt you know what I mean when I say chicken piccata.
I ate it all the way back when I was still searching for something to collect. When I had crooked teeth and a side pony tail and had to be excused from the dinner table. And it's even better now. Because I don't have crooked teeth.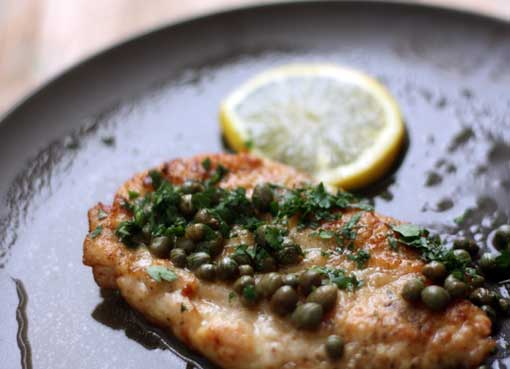 So, what do you collect? Tell me in the comments.
Chicken Piccata
Ingredients
2 skinless and boneless chicken breasts, butterflied and then cut in half
Sea salt and freshly ground black pepper
All-purpose flour, for dredging
6 tablespoons unsalted butter
5 tablespoons extra-virgin olive oil
1/3 cup fresh lemon juice
1/2 cup chicken stock
1/4 cup brined capers, rinsed
1/3 cup fresh parsley, chopped
Procedure
Season chicken with salt and pepper. Dredge chicken in flour and shake off excess.
In a large skillet over medium high heat, melt 2 tablespoons of butter with 3 tablespoons olive oil. When butter and oil start to sizzle, add 2 pieces of chicken and cook for 3 minutes. When chicken is browned, flip and cook other side for 3 minutes. Remove and transfer to plate. Melt 2 more tablespoons butter and add another 2 tablespoons olive oil. When butter and oil start to sizzle, add the other 2 pieces of chicken and brown both sides in same manner. Remove pan from heat and add chicken to the plate.
Into the pan add the lemon juice, stock and capers. Return to stove and bring to boil, scraping up brown bits from the pan for extra flavor. Check for seasoning. Return all the chicken to the pan and simmer for 5 minutes. Remove chicken to platter. Add remaining 2 tablespoons butter to sauce and whisk vigorously. Pour sauce over chicken and garnish with parsley.