It's one thing to offer a recipe I suppose … but it's a far different thing to offer one that's so deeply ingrained in the culture of a family. This recipe is sweet and crunchy, sticky and warm. Over time it's developed a cult-like following: in the family, in the neighborhood, at places of work, at parties. But more than that, this recipe embodies the spirit of Mama.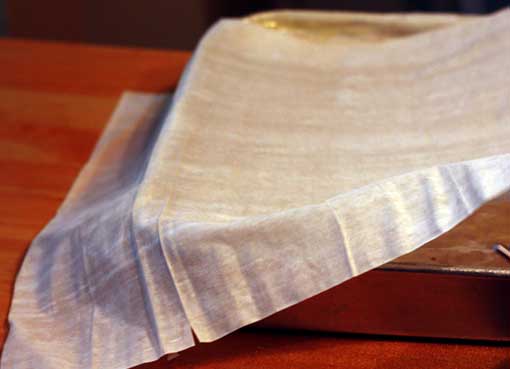 Mama was my mother-in-law's mom. That's what her kids called her – and still do – even though she passed away earlier this year. Mama made this dish every Christmas. Now it's being passed down to me: a German girl who married her Greek grandson. A girl who professes to hate baking but who understands that this recipe isn't about baking at all.
On this day, we spread ourselves out in the kitchen and I watch my mother-in-law make a batch before I make my own. She pulls the razor-thin phyllo dough from a stack and drapes it like cloth, then lays it in the pan and fills it with chopped nuts. Layer after layer after layer. Her hands steady and calm. She taps and tucks and from time to time she talks about Mama.
My heart, softened, understands between memories that for her the gap is still wide. The loss of Mama will tug and pull forever.
My father-in-law, a sweet man whose father came from the mountains of Greece, tells me that old Greek women used to make their own phyllo dough … rolling it out with the handle of a broom. I can't imagine the endurance. As I attempt to tap and tuck the dough without letting it break, my neck cries in pain.
In the end, we bake it in the oven. When it's golden brown, we pull it from the rack, spoon sweet syrup on top and step back to admire it. It glimmers. It's not too sweet. Not overly spiced.
It's exactly as Mama would have wanted it.
[print_this]
Mama's Baklava
13 x 9 x 3 pan (1/2 recipe)
Ingredients:
1 pound phyllo dough
5 to 6 cups chopped nuts – half pecans and half walnuts
1/2 cup sugar
2 teaspoons cinnamon
1 pound + 1 stick unsalted butter, melted and in a bowl
Cloves, for topping
Syrup
5 cups sugar
4 cups water
1/4 cup orange juice
1 lemon, juiced
1/2 tablespoon honey
Procedure:
Preheat the oven to 325 degrees. Combine the nuts, sugar and cinnamon in a large bowl.
Butter the pan all over. Layer 4 sheets of phyllo dough in the pan, spreading melted butter in between each layer and making sure the dough comes up the sides of the pan. Layer 6 more sheets of phyllo dough on top, spreading melted butter in between each layer – but only bringing the dough to the edges of the pan (not over the top).
Top with another sheet of phyllo dough and spread with two handfuls of the nut mixture, making sure the nuts go all the way to the sides of the pan. Top with another layer of phyllo and coat with butter. Top with another layer of phyllo and spread with nuts. Top with another layer of phyllo and coat with butter. Repeat this process until all of the nut mixture has been used.
Place 10 more layers of phyllo dough on top, spreading melted butter in between each one. (Make sure to use all of the melted butter.) Fold down the edges and corners of the baklava. Cut into desired shapes and top each piece with 1 clove.
Combine the syrup ingredients in sauce pot and simmer until thick and the syrup coats the back of a spoon.
Bake the baklava for 30 minutes. Lower the oven temperature to 275 degrees. Continue baking for 1 hour and 45 minutes. Remove from the oven and cover with syrup. For the best results, let the pan sit at room temperature for 24 hours before removing any of the pieces.
Make sure to remove the clove before eating.
[/print_this]