When I was working as an apprentice at Nectar Restaurant, I often took the Sunday brunch shift. I wasn't allowed to do much beyond vegetable prep, but this French toast recipe was right in my wheelhouse.
I'd jerk into action when an order came through the window: slice the bread, soak it in egg batter, throw it on the griddle over a pad of butter. I won't give away the secret recipe (it incorporates scraped vanilla bean, as well as some other spices here and there) but I will say that it's very similar to an Ina Garten recipe I remember reading years ago. This particular version with orange zest and honey is a mash-up of the two – and on mornings like this, it hits the spot.
At least it was this past weekend when we broke out the plug-in griddle on our trip to Tennessee. We spent the morning around the table, mostly in sleepy silence, listening to Ray LaMontagne pipe out of my iPhone.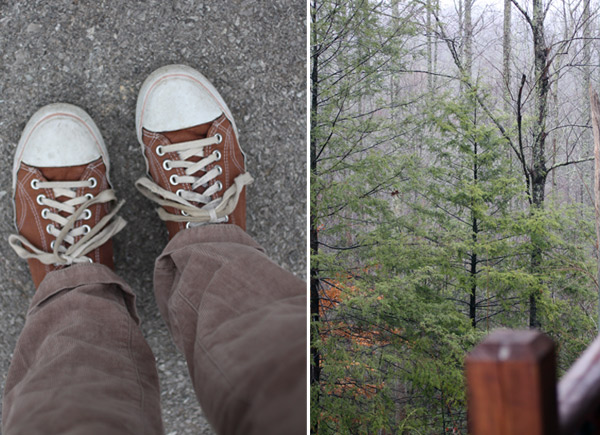 Later, we tried to walk it off, but the hike didn't last long. We had sufficiently filled the whole camp site with smells of pork shoulder slowly cooking on the grill. I'm not pointing any fingers but some of us were scared it would trigger an army of pork-hungry bears. But that's a story for another day. For now, here's what you need to know about the french toast…
[print_this]
French Toast with Orange and Honey
Based on a dish served by Julie Francis at Nectar. Adapted just slightly from Barefoot Contessa Family Style – doubling the orange zest, adding nutmeg and removing the need for vegetable oil.
Serves 6-8
Ingredients:
6 extra-large eggs
1 1/2 cups half-and-half
Zest of 1 orange
1/2 teaspoon pure vanilla extract
1 tablespoon honey
1/2 teaspoon kosher salt
2 scrapes of fresh nutmeg (optional)
2 large loafs challah or brioche bread
Unsalted butter, for frying
Maple syrup, to serve
Sifted confectioners' sugar, to serve
Procedure:
Preheat the oven to 2o0 degrees. In a large shallow bowl, whisk together the eggs, half-and-half, orange zest, vanilla, honey and salt. Slice the challah in 3/4-inch thick slices. Soak the slices of bread in the egg mixture for 30 seconds to a minute on both sides.
Heat 1 tablespoon butter in a very large saute pan or griddle over medium heat. Add the soaked bread and cook for 2 to 3 minutes on each side, until golden brown. Place the cooked French toast on a sheet pan and keep it warm in the oven. Fry the remaining soaked bread slices, adding butter as needed, until it's all cooked. Pile three pieces of bread on each plate. Serve hot with maple syrup and/or confectioners' sugar.
[/print_this]