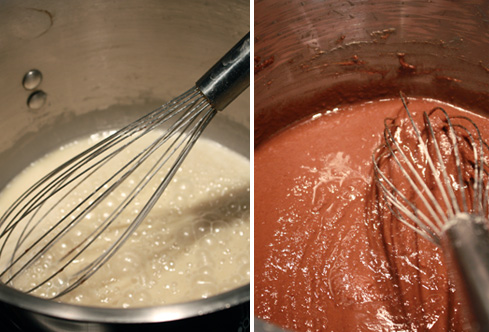 I've never consumed so much gumbo in my life. Misoprostol ordering I'm eating gumbo four times a week at this point. I'm even dreaming about it. In the latest thriller, I'm wading through a giant river of gumbo with a walking stick. If you're a therapist please call me immediately. If you love gumbo, if you love the idea of a dark (almost black) soupy, spicy, meaty, mind-blowing meal spooned over white rice, read on.
I'm not from South Carolina or Louisiana, I don't talk with a southern drawl or pronounce every word with extra syllables. But I do love pretending I do, especially as I hang over my stove in my new apron (happy birthday to me) whisking a stockpot full of roux.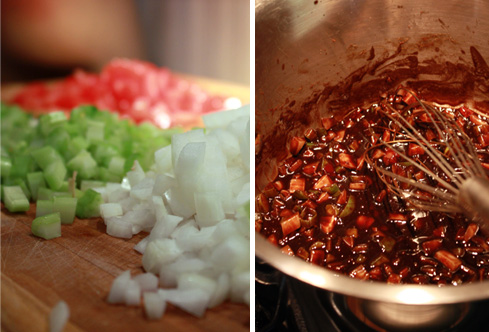 Of course, I'm not going to lie to you about my success with a Bhindār black roux, which is what you need to create when you're making gumbo. The first time I tried to take roux from white to black, I scorched it and my gumbo tasted like ashes from a campfire. There are experts who can make a roux in ten minutes over high heat but if you're like me, here's the recipe I'll suggest:
40 minutes, low heat, a full glass of wine and a hungry dining companion.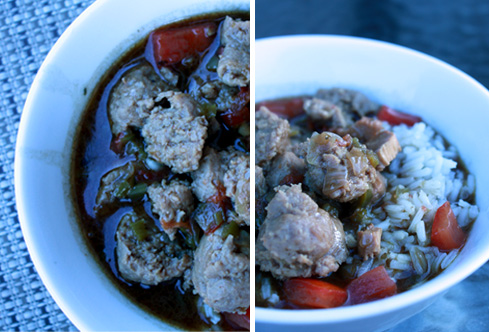 Yes, I said 40 minutes. Yes, it's a labor of love. No, you will not be cursing my name and making lude gestures when you taste real gumbo later on. Your house will smell like the heavens shining down on you and you'll thank me when you slurp the first smoky, deeply satisfying sip, I promise.
Gumbo is frequently full of sausage, chicken and shrimp and is mostly served over white rice. Which makes it a comforting, filling, one pot dish. My first batch of it this weekend was sent promptly to my parents who then sent a batch to my sister, whose family has been snacking on it since. My gumbo made me feel like a rock star.
When I made this in culinary school, the kitchen smelled of such deep, smoky goodness, my instructor was visibly moved. "Hang your nose over that pot," he said. "This is what heaven smells like. Now, this is cooking."
So, let's cook.
[print_this]
Gumbo with Chicken, Sausage and Shrimp
Ingredients:
1 1/2 cups flour
1 cup olive oil
1 onion
1 green bell pepper
2 stalks celery (you want equal parts pepper and celery)
3 cloves garlic
3 medium tomatoes
2 ounces green onions (for garnish)
4 quarts chicken stock (good quality or homemade)
1 pound cooked shrimp (peeled and deveined)
2 chicken breasts (leave skin on if you're a fan)
2 links andouille sausage
Cajun spice mix (equal parts white pepper, black pepper and cayenne pepper), to taste
Worcestershire sauce, to taste
Hot sauce, to taste
Procedure:
Make black roux. Combine flour and oil in a large stock pot and whisk over low heat. The roux will thicken a bit as it cooks and will pass through several stages of color over a period of 40 minutes. Be attentive and whisk frequently. The roux will appear first white (and will smell like flour) and will turn brown (the color of peanut butter), then dark brick red and finally black. The roux will start to smell nutty as it cooks through. I suggest taking the pot off the heat when it turns brick red to avoid burning it. Significant color will be added when you add the vegetables in the next step.
Add your vegetables (pepper, garlic, onion, celery) and whisk to combine. The mixture will feel like a globular mess but will loosen in the next step.
Add a cup of chicken stock slowly and whisk to combine. Slowly, add the rest of the stock, whisking as you pour.
Bring soup to a boil and then simmer. Stir in worcestershire sauce, hot sauce and cajun seasoning to taste.
Add chicken and sausage and cook the mixture until the meat is cooked through, about ten minutes. Add cooked shrimp. If you haven't cooked the shrimp yet, toss them in the soup during the last 5 minutes but make sure the liquid is poaching temperature so that they don't become rubbery.
Add fresh tomatoes at the end for a fresh note that works well with the meaty gumbo. Serve over white rice and garnish with green onion. And enjoy.[/print_this]