Hasselback Potatoes
I'm good at big moments. I guess it's because they're big. Your performance during the big moments matters most, right?
It's the 2-inch steak on the grill—during those 30 seconds between rare and medium rare. It's the souffle, just when it comes out of the oven—and right before it deflates.
Or, on second thought, maybe it's the smaller moments that matter most.
Who makes the coffee in the morning, for example? Or how do you tend to someone when they're sick? How much do you laugh—and when you do—who are you laughing with? When you listen, are you really listening? When you look someone in the eyes, are you really looking?
In cooking—and in life—it's the smaller things that make the biggest impact.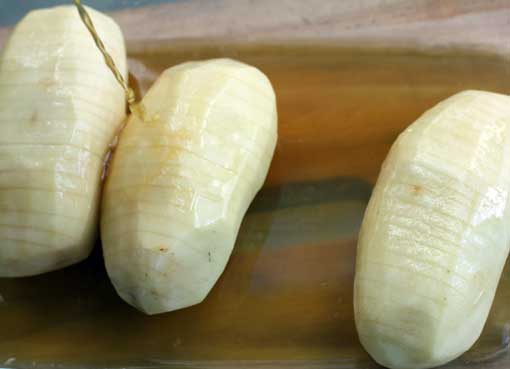 When you take a raw potato, peel away its bruised, ugly skin and then slice it into thin pieces … being careful not to cut through the bottom … what you have is a very special potato. Or, more specifically, a hasselback potato.
And your attention to detail will be rewarded.
You can brush it with melted butter, then stuff breadcrumbs and cheese between the slices. If you're feeling fancy, you can top it with chopped parsley.
When it comes out of the oven, the slices fall apart with mere contact from your fork.
It's a simple pleasure. Nothing fancy.
No tricks.
Just a couple of small moments aimed at something much, much bigger.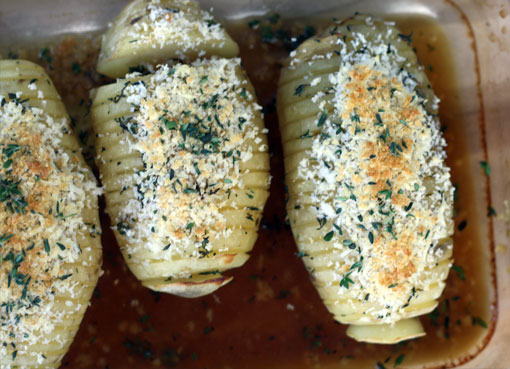 [print_this]
Recipe for Hasselback Potatoes
Serves 4 as a side dish
Ingredients
4 Idaho potatoes
1/4 cup melted butter
1/2 cup chicken stock
1/4 cup chopped parsley
1/4 cup breadcrumbs
4 tablespoons shredded cheese (your choice)
Kosher salt, to taste
Black pepper, to taste
Procedure
Preheat the oven to 400 degrees.
Cut the potatoes into thin slices with a sharp knife, being careful not to cut all the way through to the bottom. Place them in an oven ready dish and set in the oven.
Melt the butter in a small sauce pot and brush over the potatoes. Pour chicken stock over the potatoes and bake until half done, about 30 to 35 minutes.
Meanwhile, combine the breadcrumbs and cheese in a small bowl.
Remove the potatoes from the oven and spoon breadcrumbs and cheese in between each slice. Return to the oven and bake until completely done, about 30 minutes more.
Toss with parsley and serve hot.
*If you find the potatoes aren't tender, place a cover or a sheet tray over the dish and continue to steam in the oven until ready, adding additional stock if necessary.
[/print_this]