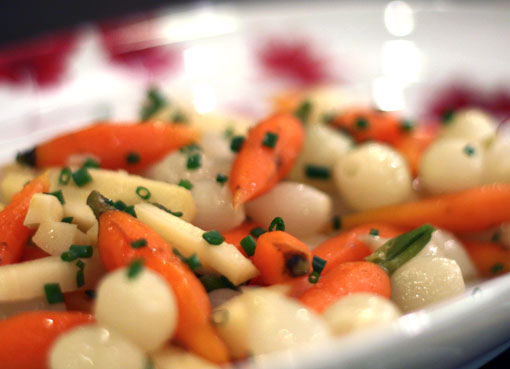 There is a simple formula for perfectly glazed carrots (or any other root vegetable for that matter) and it involves four simple steps. Isn't that comforting? I wish there were a recipe for life remotely as accountable. I wish I could consult a book when I didn't know which which pants to wear in the morning.
Imagine such a world.
Tired of chores? See page 34 of How to Get Your Man to Love Laundry. Need more money? Consult the second edition of 22 Discrete Ways To Rob A Bank.
See? Instructions are good. So here are mine for perfect vegetables coated in an ever-so-thin layer of melted butter. And believe me, the process makes a difference. Vegetables can easily be perverted into something too sugary, too overdone or dull, lifeless and otherwise disappointing.
Find the smallest pan that will allow the vegetables to spread into an even layer.
Fill the pan with water until it just covers the vegetables.
Add 1 pat of butter, 1/8 teaspoon of sugar and a pinch of salt.
Bring the water to a boil and then lower the heat and reduce the water to 2 tablespoons.
That's it. The vegetables are tender when you've got just couple of spoonfuls of glaze left over. A lovely, salty, sweet ratio that works on any root vegetable, any time.
As for other challenges, complexities and conundrums, you'll just have to keep on muddling through. The recipe for life remains unpublished.
Note: If you happen to find, for whatever reason, that the vegetables are done before you've got a nice glaze, just remove them, reduce the water on its own, and then add them back to the mix. If you find they're not done enough, just add more water.