I was in need of some comfort food yesterday afternoon, so I decided to make the adult version of my favorite childhood lunch. Kraft singles and plain white sandwich bread just weren't going cut it, so I broke out the good stuff.
For a rich, nutty flavor, I decided to use the Special Reserve Gruyere we had in the fridge. I also sliced up a loaf of country bread for the ultimate hearty bite. Instead of grabbing the bag of chips we had in the cupboard, I fried slices of sweet potato in hot oil. It was an especially incredible way to spend the lunch hour.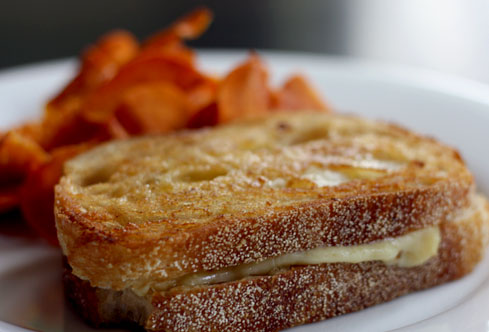 [print_this]

For the Grilled Cheese Sandwich
Preheat the oven to 350 degrees.
Slice the cheese and insert between two pieces of country bread.
Then, butter the pan — not the bread. Brown 2 tablespoons of butter in a pan over medium heat.
After about a minute, flip the sandwich and brown the other side for 30 seconds.
Lay the sandwich out on a baking tray and put another half tablespoon of butter on top. Bake until the cheese is melted — 3-5 minutes.
[/print_this]
[print_this]

For the Sweet Potato Chips
Peel one sweet potato and slice into thin circles with a mandolin or sharp knife.
Pour 3 inches of peanut oil into a heavy pan or fryer and heat to 350 degrees.
Fry chips in batches until crispy, about 3 minutes.
Lay chips out on a paper towel and sprinkle with kosher salt. You can keep warm in a 200 degree oven.
[/print_this]