I've got a secret, folks, and it's born from the kind of raw emotion that divides nations, ruins presidential campaigns, sabotages relationships. I hate to admit it but my secret burns even hotter than John Edwards in a hotel room … and even though it's so, so wrong, I hope you'll understand.
Selfishness, greed, power. You wouldn't know it but it's all right here in this recipe.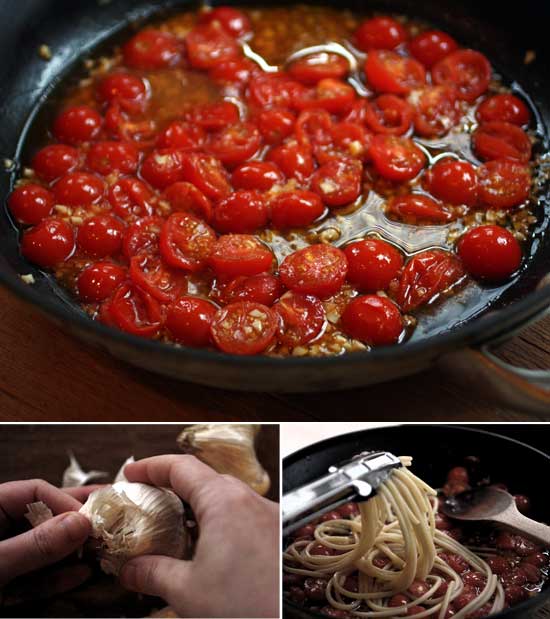 Last week had me alone in the kitchen – left to my own devices. Dustin was cat napping after 30 hours on the job and my stomach was telling me something had to be done with all of our tomatoes. But what to do? Winter tomatoes taste watery and dull. Unless of course, you roast them slowly or sauté them gently in a pool of olive oil. Which is what I did … along with a heavy hand of minced garlic.
A sauce like this has an unspeakable beauty, a distinct richness and creaminess that comes from tomatoes and olive oil mingling at a low temperature. Once the tomatoes become the consistency of jam, you fold in the cooked pasta and squirt lemon on top.
But now, reader, we get to my tragic downfall as a human being. The part where I reveal my true colors. Oh the innate selfishness that is mine!
As I downed the last noodles in my bowl, I heard Dustin thump out of bed and squeak across the hall, clearly marching towards the smell of garlic and tomatoes. But as his footsteps neared closer and closer, I couldn't stomach the thought of sharing what was left. Quickly, I turned to the pan, emptied the contents in my bowl and darted to the living room.
"Got anything for lunch?" he asked, innocently rounding the corner, looking like he'd had one hell of a long shift at the hospital.
"Sorry." I said. "I only made enough for one."
[print_this]
Pasta with tomato jam
Serves 2 people or 1 really hungry/selfish person
Ingredients
1/2 pound good quality spaghetti, cooked al dente
4 tablespoons olive oil
1 pint cherry tomatoes, cut in half
6 cloves of garlic, minced (feel free to tone this down if you like)
1 tablespoon lemon juice
1/4 cup parmesan cheese
Black pepper and Kosher salt, to taste
Procedure
Sauté the sliced tomatoes in a large pan with the olive oil over medium heat. Cook until the tomatoes are the consistency of jam, about 15-20 minutes. Season with salt and pepper. Lower the heat and add the minced garlic. Cook for 30 seconds more or until fragrant. Add the cooked pasta slowly, making sure not to overcrowd the pan with too much pasta. Sprinkle with lemon juice and parmesan cheese.
[/print_this]