If there is a mistake to be made when throwing a dinner party, you can rest assure that I have made it. I have served dinner at 9:00. I have burned casseroles. On one particularly unsuccessful evening, I set off the fire alarm and proceeded to run through a crowd of people like a crazed maniac — smoking pan in one hand and glass of wine in the other. Turns out, all of these scenarios tend to stress guests out.
To avoid situations like these, it's best to select dishes that can be made before guests arrive. That's why this one is so perfect. It's elegant, it's delicious and it actually works out better when you make it a day in advance.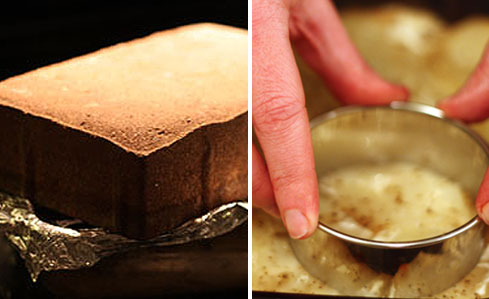 [print_this]

Potato Pavé with Parmigiano-Reggiano
Serves 4
Preheat the oven to 350 degrees and butter a 9×9 baking dish. Set aside.
Peel 8 Russet potatoes and slice them very thin with a knife or mandolin.
Put potato slices in a mixing bowl filled with about 4 ounces of heavy cream.
For layer #1, arrange about 4 rows of potato slices (they should be coated in heavy cream) on the bottom of your 9 x 9 baking dish. Overlap the potatoes slightly and be as neat as possible.
Add a pinch of salt and pepper to layer #1. Then sprinkle a thin layer of parmigiano reggiano over the top. I really recommend using real parmigiano reggiano here — it has a much stronger and more satisfying flavor than the knock-off variety.
Repeat this process 2 more times, alternating potatoes, salt, pepper and cheese. There should be 3 layers of potatoes when you are finished.
Cover the baking dish with foil, set on a baking tray (in case there is leakage) and bake for 90 minutes, or until the potatoes are cooked through and a fork easily pierces through the surface.
In the last 15 minutes, remove the foil and brown the potatoes on top until they are golden brown.
Remove the dish from the oven and place the foil back on top. Place several heavy soup cans or a large brick on top of the foil. This step will compact the potatoes and is what makes the dish a pavé. Refrigerate the dish overnight or for at least 2 hours.
Remove dish from refrigerator and, if you desire, cut circles out of the potatoes with a cookie cutter or an empty can. Reserve the potato circles on a plate.
When you're ready to serve, reheat the potato circles in a buttered sauté pan.
[/print_this]