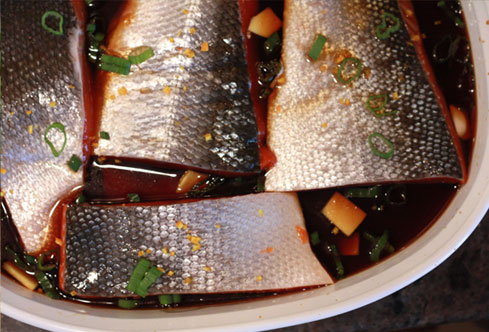 I had a dream the other night. I was carrying a large basket of fava beans down a dirty, winding path. I felt the sun shining on the side of my face, my hair was blowing in a gentle breeze. By God, I woke up and thought it was a sign … a sign that spring was coming.
Unfortunately, I ventured outside only to find that I was still under a grey blanket of sky. I immediately felt the cold bite of angry, winter wind. There were no fava beans to be found, either. March is such a tease.
I carried the dream with me for a while that day. Long enough to convince myself to try and make something light and zingy for dinner — something that would at least create the illusion of spring.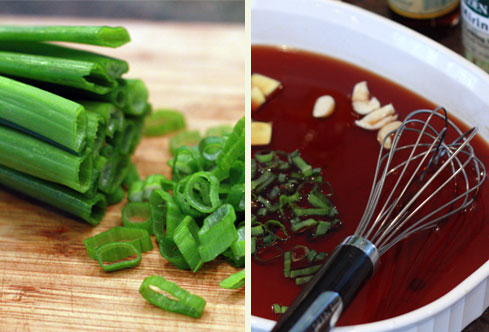 I came up with this dish — Asian style marinated Coho Salmon. God, I love the vibrant reddish-pink meat in Coho, the way it paints the color of the sky when the sun is sinking under the treeline.
This recipe actually began when I was a kid. Back then I was such a picky eater, I wouldn't eat anything unless my mother lied to me and told me it was Mahi Mahi. For some reason, in my book, Mahi Mahi was the only acceptable fish, especially when it was marinated in something that made it taste less like itself.
This is a soy sauce marinade, but the secret ingredient is really mirin — the Japanese cooking wine. Combine equal parts soy, mirin and brown sugar and then throw in some ginger, some scallions, a couple cloves of smashed garlic and orange peel. There's no exact recipe here, just use your head and the result will blow you away.
Marinate the fish for 15-30 minutes and then pull it out and cook it. Cook it however you want, just remember to throw the marinade in a pot over medium heat so that it reduces down. It makes an incredible sauce for the fish later — it's salty and sweet and really bright from the orange peel. For an extra pow, throw some orange zest over the whole thing.
You won't know what hit you. Even if it is still winter.