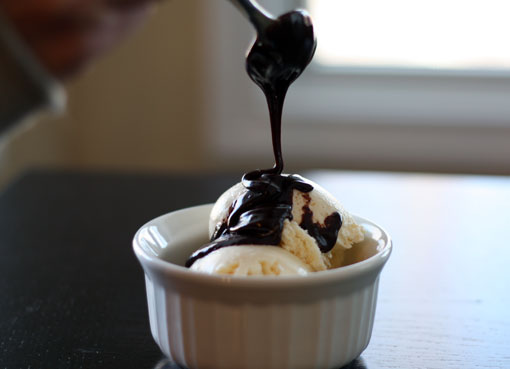 Given that I'm headed to Mexico in three weeks and am completely gripped by the horror of January vanity, I can't believe I'm writing about hot fudge sauce. But you and I both know that birthdays aren't birthdays without a sugar-drip hooked into your veins, and so for my mom's celebration I selflessly sacrificed the scale for the fudge.
Thin fudge. Sweet fudge. Thick fudge. Whipped Fudge. I've been up to my eyeballs researching hot fudge sauce recipes and all of their variations but really, great fudge is born from simplicity. And though I don't think it was invented by Grecian models, it's certainly not the worst thing you can do for yourself.
I will say — haughtily, proudly, enthusiastically — that I prefer hot fudge sauce made with unsweetened chocolate. And I also like it to incorporate a subtle hint of booze. This version happens to be heavy-bodied (no pun intended) and rich — and it even stands on its own if you're into licking the mixing bowl.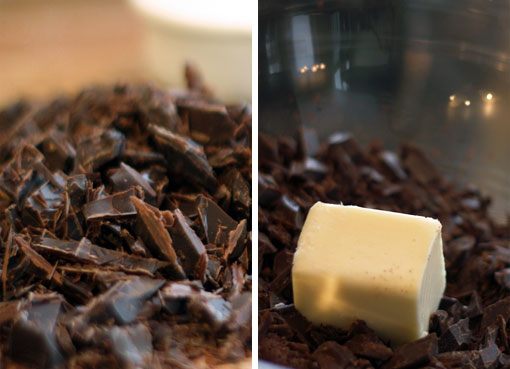 There. Just like that. And yes, there was even a cherry on top. But you don't set something like this out in front of people and expect a lot of time for pictures. When the angry mob demands their Hot Fudge Sundae, you just blink wildly and hand them a spoon.
[print_this]
Hot Fudge Sauce Recipe
Recipe from SmittenKitchen.com
Ingredients
4 ounces unsweetened chocolate, chopped
3 tablespoons butter
6 tablespoons corn syrup
2/3 cup sugar
1/3 cup water
1 tablespoon rum or vanilla extract
Kosher salt, to taste
Procedure
Combine chocolate and butter in a mixing bowl over boiling water. Stir until completely melted and add in the boiling water, sugar, corn syrup and salt. Bring to a boil and remove from heat. When cooled, add in the rum or vanilla extract. You can serve warm or reserve and reheat in the microwave for 15 – 30 seconds.
[/print_this]