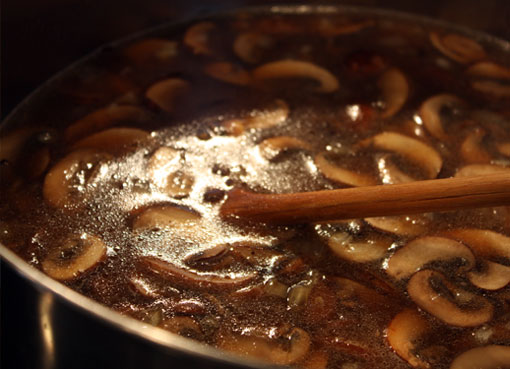 If this mushroom soup were in high school, it'd still be wearing headgear. What I mean to say is, you probably wouldn't want to take it to prom. Wait, let me make myself perfectly clear: it's sort of homely.
But as we all learn as we get older, those who are awkwardly dressed and rough-around-the-edges often become the most interesting people later in life. And this mushroom soup—deeply caramelized, laced with sherry, sophisticated in every way—is proof that appearance just ain't everything.
It's my mom's recipe and I've been eating it since I was a kid (struggling with side ponytail issues). And the best part is that it's easy and takes only minutes to prepare. I don't know why it's taken me so long to share with you. Maybe because I've been so afraid of what you'd do with all the power.
Here's a tip: saute the mushrooms in a large pan and make sure you're leaving space between each one — otherwise they'll steam and won't caramelize. Here's another tip: put a tab of butter in the pan and don't move the mushrooms for a while. Let them cook longer than you think they should and they'll start releasing moisture. Then flip them. You won't be sorry.
[print_this]
Mushroom Soup
The following is the original recipe with directions, as emailed to me from my mother.
Melt 1 T butter and 1 T oil. Saute 1 medium onion and 1 clove garlic, split. Brown gently and discard garlic. Stir in 1 lb. Mushrooms sliced
thin. Saute for 5 minutes and add I can of tomato paste. Mix well. Add 3 cups chicken stock. Stir and add 2 T sherry. Add 1/2 t salt and
dash of pepper. Let simmer for 10 minutes.
I also try to cook the onions down for more than they say, both when browning and when cooking the soup. That's so your father doesn't have a fit because he doesn't like them. Just me being nice. As usual.
- Mom
[/print_this]