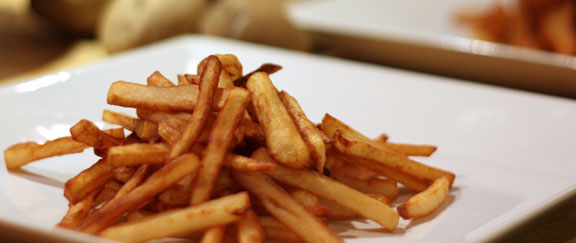 Yeah, yeah — it's January and we've all forsaken carbs for cardio. But on freezing days like today, I crave food with warmth and comfort. A couple of simple updates to an old french fries recipe transforms the humble potato into soul-satisfying food with flare.
[print_this]
Double-Fried French Fries
(Serves 6)
Peel a pound of medium russet potatoes.
Soak the potatoes in a bowl of water for at least an hour to get as much starch out as possible.
Cut the potatoes into wedges (if you like thicker cut fries) or into sticks (if you like crispier fries).
Pour peanut oil into a fryer or a heavy pot. A fryer is easier, a heavy pot works. If you're using a pot you need a deep fryer thermometer.
Heat the oil to 325 degrees. You're looking for a gentle simmer here.
Dry the potato slices thoroughly with a paper towel. Otherwise you're going to get splattered with oil. And hot oil on your face doesn't feel good.
Put the potatoes into the fryer basket and lower into the oil. (You can use a strainer if you're using a pot.) Whatever you do, don't overcrowd the basket. Be patient and do it in batches.
For thicker wedges, fry for 3-4 minutes or until the potatoes are a pale blond. Fry half the time for sticks. Set the potatoes on a paper towel to drain the drain excess oil.
Turn the temperature up in the fryer or pot to 375 degrees.
Fry the potatoes once more, for 3-4 minutes or until golden brown. This step is what makes them so crispy on the outside. Don't skip this step.
Drain the fries on a paper towel.
Add salt to taste.
Enjoy better fries than you'd get eating out.
[/print_this]