Say what you will … yes I am that girl with the messy hair and the half-wrinkled shirt who is often thinking four steps ahead without remembering to wear cute shoes. But when it comes to cooking, I've got priorities.
It's late over here – or should I say really early – and that's a nice thing because the house is still and even though the wind is loud and scary out there, I've got my husband and dogs tucked safely upstairs. Which means, I'm okay for now to write you a little love letter about roasted smashed potatoes.
Of course, it's not a chef's recipe … in fact … you don't really need a recipe (but I'll give you one anyway). The idea is to roast a bunch of new potatoes and to smash them with the back of your knife, then crisp them in a skillet with butter. They'll crackle and spit over the high but don't be put off, you'll have the last word in the end.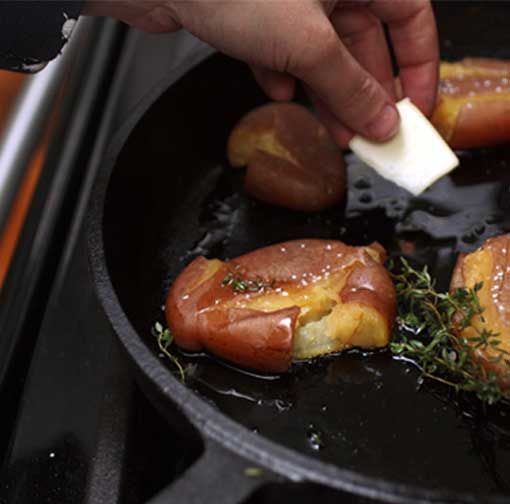 Which of course, means you'll get creamy roasted potatoes with all the benefits of crunchy, caramelized skin. A hint of thyme will set it over the top so long as you use the fresh stuff. And as always, season with salt and taste as you go.
For me, this side dish ensures a rare and simple, even peaceful dinner with my husband … who for whatever reason has decided to let me be what I'm gonna be, hair and all, love of potatoes and beyond. A marvel which has confirmed my longstanding suspicion that us cooks have something on the rest of the world. We've got dinner.
And finally, a loose end: I was on 55KRC this past Sunday talking about blogs, books and videos. I was asked how I made the transition from design to writing and my answer had something to do with this blog, curating content and creativity. But the more I think about it, if you're all the way to the bottom of this post and you're still reading, the real answer has everything to do with you. Thanks for giving me that.
[print_this]
Roasted smashed potatoes
Serves 4
Ingredients:
2 pounds small red potatoes
6 swirls of extra-virgin olive oil
1 tablespoon butter
1 bundle of thyme
Kosher salt, to taste
Procedure:
Preheat the oven to 400 degrees. Spread the potatoes out on a baking sheet, drizzle with olive oil and season with salt. Roast for 30 minutes or until tender. Remove the potatoes from the oven and cool just enough to handle. Using the back of your knife, smash the potatoes, making sure not to break all the way through.
Drizzle more oil in a skillet and turn the heat to high. Add the smashed potatoes, thyme bundle and season with salt. Let the potatoes cook for 5-7 minutes, flipping once to ensure even browning. Swirl in the butter and continue to caramelize on both sides, about 5 minutes more. Remove from heat, discard thyme bundle, check for seasoning and serve.
[/print_this]