It was a strange moment. Skinny vegetarian that I was, I stood alone in the kitchen with a gnarled chicken bone in my hand and juices dripping down my arm. I swear, I tried to resist. But the roasted chicken outsmarted me with it's garlic infused, animal smells. 4 years ago, I ripped into that thing like an animal in the wild, surprising myself and everyone around me.
This, I hope, helps explain my somewhat fanatical fascination with roasting chickens. I really just love them dearly. So, when I see a new recipe or a new technique to try, I can't resist hauling out the roasting pan and firing up the oven.
Except, last Sunday I was tired. So, instead of dealing with a big roasting pan, I put 4 or 5 carrots on the bottom of a shallow baking dish and set the chicken on top. It was a lovely homemade rack, I thought, and it worked really well.
In France, there's a dish called Boulangerie Potatoes. They take a big roast — like a lamb of leg — and place it on the top shelf of a hot oven. A pan of potatoes is then put on the rack below and as the roast cooks on top, it drips its glorious meat juices into the potatoes.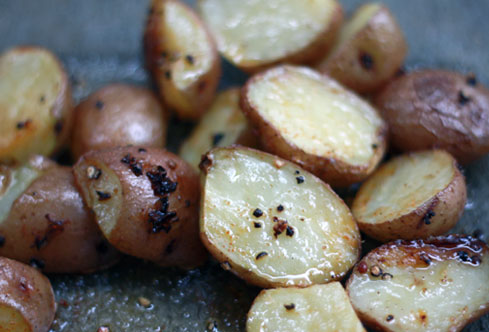 I like to think of this easy potato dish as a very simplistic Boulangerie because I baste the potatoes with the chicken juices that accumulate in the bottom of the roasting rack. Because the potatoes are so textural and high in starch, they soak in all of this liquid gold with ease.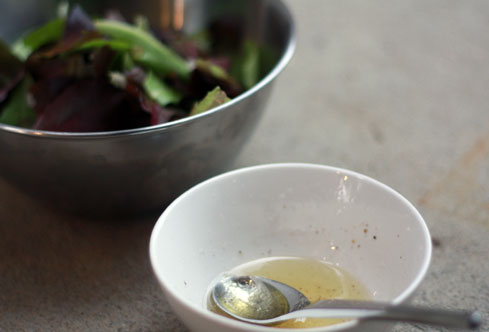 In honor of the rustic meal, I composed a very simple vinaigrette for some mixed greens – 3 parts olive oil, 1 part sherry vinegar and a pinch of salt.
Maybe it's unseasonable to mention this warm, rich dinner — but it was so good, I just couldn't resist.
[print_this]

Roasting a Chicken My Way
Rinse the chicken under cold water and pat it dry.
Salt and pepper inside the cavity of the chicken.
Stuff 2 heads of garlic with their tops cut off inside the chicken cavity. Throw some thyme in there if you've got some.
Butter it the outside of the chicken. I mean butter it all over. Use half a stick and don't be shy.

season the top with salt and pepper and truss it if you're ambitious.

Sprinkle minced shallots all over the thing — everywhere — so that they caramelize.
Stick the chicken on top of 4 or 5 carrots in a shallow baking dish and pop it into a 350 degree oven.
After 40 or so minutes, crank the oven up to 400 degrees. I think this is the best way to get a nice, crispy skin.
Cook the chicken until its internal temperature reaches about 150 degrees. Take it out and let it rest on the counter until the juices redistribute. The rule is that when you serve it, it should be about 165 degrees.
buy Lyrica india For the Soy Marinade:
Combine 4 ounces of unsalted butter, 1/3 cup soy sauce and 1/3 cup water.
Reduce sauce in a pot until slightly thick.
Baste the chicken with the sauce during the last 15 minutes of cooking

[/print_this]