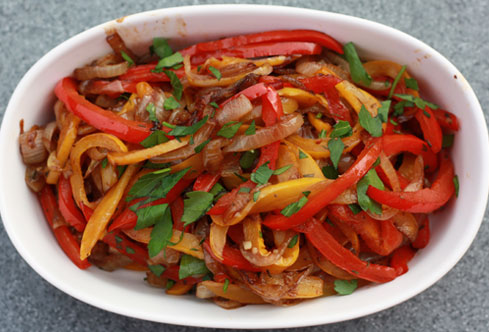 They say that things get better with time. I want to believe them, whoever "they" are. I want to believe them because I know wine gets better with time. I know the ache and pain of losing a loved one gets better with time. I'm certain that marriage does. I want to believe that this blog will too.
Six months ago, if you told me I'd soon have a food blog, I'd have cocked my head to the side and wondered what glue you were sniffing. But sometimes I get carried away. When I started immersing myself in the world of food, I wanted to have a record of that experience. And now, here I am — writing, taking photos and hoping that the blog gets even better over time.
If it's anything like this recipe for peperonata, it will. (Segway!)
There's a reason I call this one a 2-hour peperonata. It takes time and patience to wait for the sliced onions to release their sugars. This is the secret. There is no substitute for time. But wouldn't it be nice if we could all be more like these onions when they're ready: tan, sweet and totally irresistible?
I first cooked this dish the same day I bought Andrew Carmellini's Urban Italian cookbook. It was a lovely recipe, one that relied on the classic Italian sensation of agrodolce. It's accomplished by combining a light hit of sweet (sugar) and sour (vinegar) ingredients. Over many months, I simplified (and probably bastardized) his version. Still, it amazes me because it's a testament to how how few ingredients are really necessary when proper techniques are used.
In essence, this is the produce of slowly cooking shredded onions, throwing in some sauteed peppers and garlic and then hitting the whole thing with sugar and balsamic vinegar. It can be a lovely side dish or a totally respectable topping for fish. The only thing I wish I would have done for the purpose of the above picture is slice the vegetables thinner so that they'd be easier to eat.
Last weekend, I used my peperonata as a topping for a gourmet hot dog. If I'm being quite honest, it was well worth the time and the trouble. I could have even eaten it without the bun. Or the hot dog for that matter.
[print_this]

2-Hour Peperonata
Ingredients:
1 onion, sliced thin
2 bell peppers, sliced thin (an assortment of colors helps with presentation)
2 cloves of garlic, minced
1 bunch of parsley, chopped
3 tbs balsamic vinegar
1 tbs sugar
3 tbs olive oil
kosher salt, to taste
Procedure:
Put the onions in a pan along with the olive oil. Add a pinch of kosher salt. Cook over lowest flame possible until they are soft and golden. Do not let them sear. If they pan dries out too much, add water.
Meanwhile, in another saute pan, cook peppers gently over medium heat. Add garlic during last few minutes and stir until it becomes aromatic. When onions are ready, combine with pepper mixture. Add balsamic vinegar and sugar. Cook for another 3-4 minutes.
Season to taste and top with parsley.
[/print_this]