It was over a year ago when it happened. I was happily sipping a glass of red wine with my husband at Via Vite's bar when Christian Pietoso, who I have written about before, handed us a little gift from the kitchen. Two cherry peppers stuffed with all kinds of Italian goodness. As he described the ingredients involved, his hands gesticulated the way they often do when Italians are excited about something.
What can I say? These vibrant, miniature cherry peppers thrilled me — partly because I hadn't seen them anywhere around town before and partly because their small size made them the perfect amuse bouche. Just one bite delivered a full impact experience; they were salty, zingy, warm and comforting.
Since that night, I have been on a fanatical mission to recreate the recipe at home. But trying to locate fresh cherry peppers is not easy in Cincinnati. Countless trips to farmer's markets and specialty grocery stores were utterly unsuccessful.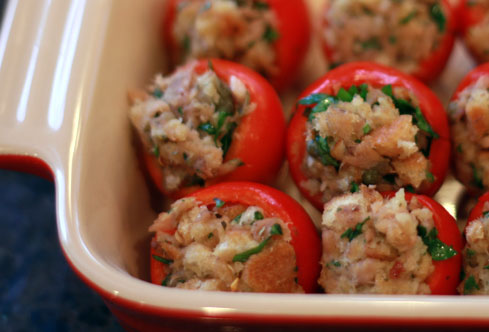 Perhaps it was divine intervention or maybe the restaurant was just tired of hearing me whine. All I know is that last week, Via Vite stepped in and ended the madness. Kindly, they offered to let me buy a bunch of fresh cherry peppers straight from their kitchen. I was relieved — after a year of hunting, complaining and obsessing, 2 dozen cherry peppers were all mine.
Of course, I don't know exactly how Via Vite makes their delectable stuffed peppers, but since the dish is pretty ubiquitous throughout Italy, this recipe wasn't terribly hard to adapt. If you're not in the mood to track down fresh cherry peppers, you can actually cut red bell peppers in half to make this dish. I've done this and they're a great side dish.
[print_this]

Stuffed Cherry Peppers
Ingredients:
24 cherry peppers
6 ounces Italian tuna packed in water, drained well
2 anchovies, chopped
1 clove garlic, minced
1 tablespoon capers
3/4 cup bread crumbs
1 egg, beaten
1/4 cup Parmigiano Reggiano
3 tablespoons lemon juice
1/4 cup parsley, chopped
1 teaspoon crushed red pepper flakes
dash of salt
Preparation:
Preheat oven to 350 degrees
Combine all ingredients (except for peppers) in a medium mixing bowl.
Fill each pepper with about 1 teaspoon of the tuna mixture and place them in a baking dish.
Bake for 20 minutes or until mixture is heated through and peppers are semi-soft
[/print_this]