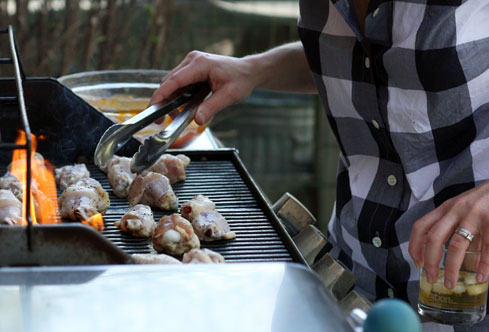 Three weeks ago we were clutching ourselves and bearing down in the cold wind. But just look at us now, Cincinnati. We're driving with our windows down. We're reaching for our scratched Bob Marley CDs. We're watching baseball again.
As the heavy veil of winter lifts, we see green grass and flowering trees. Spring is a reminder that God didn't take it all away, he just made us earn it. So, goodbye frigid skin, shivering bones and bulky clothes. Hello fire pits, bare feet, cold beer and warm sunny days. Hello grill time.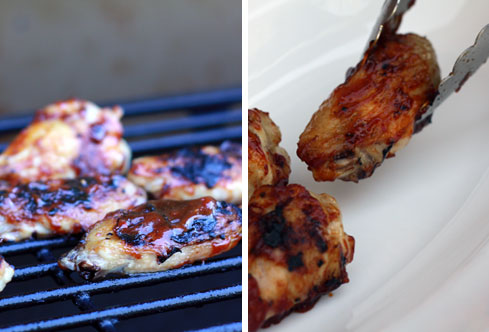 The first thing I busted out? Chicken wings. Not the deep-fried kind, thank you very much, but the kind you spread over hot flames and baste at the end with a you're barbecue sauce. I must admit, I went for organic, air-frozen chicken in this case and I think it makes a huge difference. But if you're not ready to splurge, let the sauce do the fancy business. (And yes, that is bourbon opened up with a couple of rocks in my hand above — I also recommend drinking one of these while cooking.)
It kind of pains to me admit this, but the sauce is an adaptation of a Bobby Flay barbecue sauce that I've been making for a couple of years. I can't get enough of it and it's because of the ketchup and molasses base — a dark, thick, sweet mixture that ends up giving the wings a stick-to-your-fingers quality. And I do love looking around the table at grown adults with their faces smeared in sauce and their napkins indignantly wadded up into messy little balls.
In the sauce goes a bit of chopped garlic, vinegar, brown sugar, dijon mustard and a splash of Tobasco. If you're not a fan of sweet sauce, you can always throw in a few pureed chiles in adobo.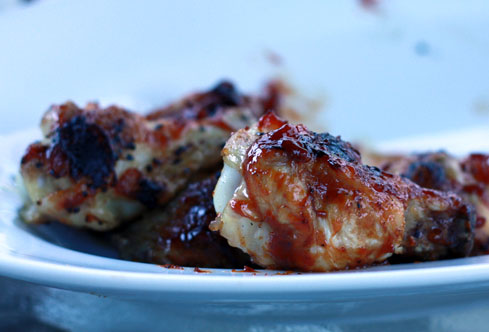 Admittedly, I tend to gravitate toward gourmet ingredients and interesting flavor combination. For this reason, and if given the right audience, I make food without the help of a lot of recipes. Of course, this lends a hint of danger to the whole operation, but I sort of thrive in that energy.
But when the air is cool and Cornhole is being played ten feet away, the evening begs for unchallenging crowd-pleasers. And I say that with love — because you don't consciously stick your fingers in your mouth to clean up extra sauce. You do it unknowingly — kind of like driving on autopilot. Social graces be damned. These things are that good.
[print_this]

Sweet BBQ Chicken Wings
Ingredients:
2 cups ketchup
1/4 cup molasses
2 tbs Worcestershire sauce
2 tbs dijon mustard
2 tsp teaspoons hot sauce
2 tbs red wine vinegar
1 tbs brown sugar
2-3 pureed chipotle chiles in adobo (optional for hot BBQ sauce)
2 cloves garlic, minced
black pepper, to taste
salt, to taste
2 lbs chicken wings, split at the joint, wingtips removed and discarded
Procedure:
Season chicken with salt and pepper and set aside.
Combine all sauce ingredients in bowl and mix well.
Grill wings on medium-high heat and flip after 4 minutes or until golden brown. Continue cooking, about 3 minutes until almost cooked through
Move wings to low heat and start spooning sauce on top. When caramelized, flip the wings and spread sauce on the other side.
[/print_this]