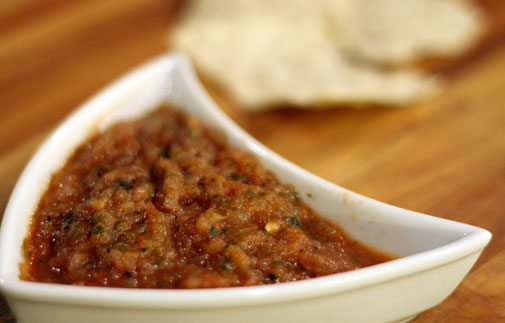 Salsa actually surpassed ketchup as America's most popular condiment in 2000. And while bottled versions of it run rampant, the homemade variety is far superior. That's because a deep, low burning flavor develops when you home roast tomatoes, peppers and garlic. A final splash of lime and cilantro adds just the right about of fresh, acidic kick …
[print_this]

Fire Roasted Salsa
(serves 4-6)
Score 8 Roma tomatoes: with a knife, lightly carve an X on the bottom of each one. This technique will help the skin slide off after the next step.
Boil tomatoes: place in boiling water for 15 seconds. Take out and peel skin off of each one.
Roast tomatoes: cut tomatoes in half equatorially. Drizzle with olive oil and kosher salt. Spread out on a baking sheet and pop in 300 degree oven for 3 hours. This process concentrates the flavor — a necessary step in the winter when tomatoes are not fresh.
Roast Garlic: Take a head of garlic and wrap it in foil. Put it in the oven with the tomatoes. Take out after 1 hour.
Char peppers: use variety of peppers for a more complex flavor: 1 poblano pepper, 1 serrano pepper and 2 jalapeno peppers. Use more if you're brave. Drizzle them with olive oil and kosher salt and spread out on baking sheet. Broil them on high until skin is black and burned.
Steam peppers: Take them out of the oven and put in a bowl covered with foil. Steam for 10 minutes. When cool enough to handle, slide the skin off of peppers and give them a rough chop.
Caramelize onions: roughly dice 1 yellow onion and half of a red onion. Cook them on low heat for at least an hour, stirring every once in a while, until they slowly turn golden brown.
Puree vegetables: Put tomatoes, peppers, red onion, yellow onion and a squeeze of the roasted garlic into a food processor.
Add the juice and zest of 2 limes and 1/2 cup of fresh cilantro. Add salt to taste.
Give them a whirl and then add water to the mix until the salsa reaches your desired consistency (about 1 cup).
Enjoy the low burning, bright flavor.
[/print_this]