I'm not sharing this recipe to offend passionate tomato sauce lovers — though I feel it's certainly a risk I'm taking. Nothing seems to enliven a cooking discussion like the debate over whether or not to add sugar, tomato paste or pureed mirepoix to a good quality sauce.
I've tasted Batali's, I've tried Carmellini's, I've even sampled Colicchio's. But I'm going to go out on a limb here and say that this is the best tomato sauce I've ever eaten at home. No surprise, it's from Thomas Keller's Ad Hoc at Home.
For those of you who are already backing up from the computer, don't be put off just yet. Keller's Oven-Roasted tomato sauce doesn't involve molecular gastronomy or thermal circulators. In fact, it's a one pot dish and many of the ingredients involved are already in your pantry.
The one thing you'll want to be sure you have plenty of is time. This sauce gets deeper and more complex the longer you roast the veggies.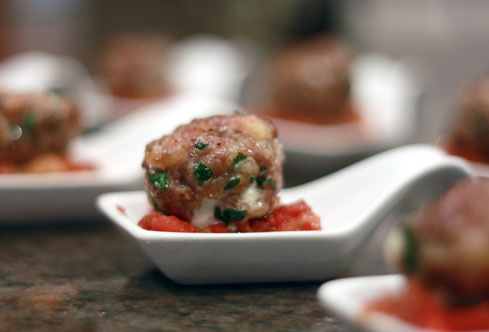 Just chop some onions, garlic, leeks and fennel and throw 'em in a baking dish. Let the oven do all the work while you go about your day. When everything is good and caramelized, add a splash of vinegar and some brown sugar to the dish and return it to the oven. When the liquid is absorbed, about 20 minutes later, add good quality, canned tomatoes and roast again for another 90 minutes.
I made meatballs to go with mine, what will you make?
[print_this]

Roasted-Tomato Sauce
Adapted from Thomas Keller's Ad Hoc at Home
Ingredients:
2 tablespoons canola oil
1 cup finely chopped yellow onion
1 cup minced leeks, white and pale green parts
1 cup fennel, chopped
1 teaspoon minced garlic
2 tablespoons light brown sugar
2 tablespoons red wine vinegar
2 28-32 ounce cans of whole peeled tomatoes
2 bay leaves
bunch of fresh thyme
kosher salt, to taste
freshly ground black pepper, to taste
Preparation
Preheat oven to 350 degrees
Combine vegetables in dutch oven or baking dish and cook 1 hour or until tender and caramelized
Stir in brown sugar and vinegar and return to oven for 20 minutes or until liquid is absorbed
Drain canned tomatoes and coarsely chop half of them. Puree the other half and put in a food processor
Add tomatoes to vegetables, along with bay and thyme and return to oven for 90 more minutes
Sauce is ready when it's thick. Make sure to discard thyme and bay leaves before serving
[/print_this]