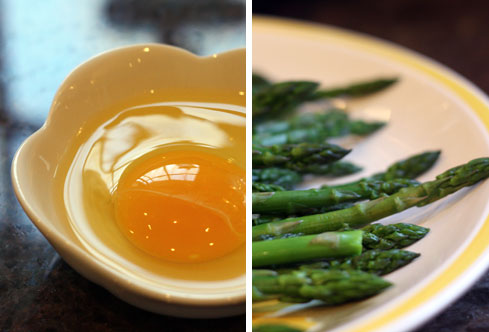 Ham and eggs go well together — it's one of life's certainties. This perfect union is as reliable as the adage that butter makes everything better. It's just fact.
After a week full of uncertainties (namely a hit and run accident with my poor Mini Cooper in Northside), I want something reliable. No, I need something reliable.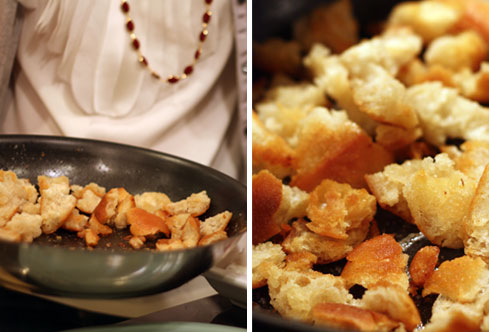 Enter the most classic dish on earth: warm asparagus and proscuitto salad with poached eggs and crispy, garlic croutons. Two bites into this salad and I feel like I'm getting a comforting hug from an old friend.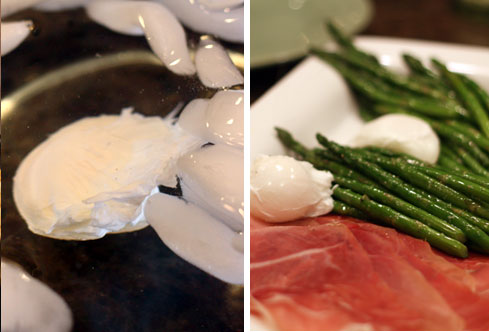 When you break the egg with a fork, the egg yolk will create a warm, velvety dressing for the asparagus. The prosciutto will provide a lovely bite of salt and the sweet, reduced balsamic will tie everything together.
In a world with so many uncertainties, it's good to know that some things will always be true — warm asparagus and prosciutto salad will always create one perfect bite after another.
[print_this]

Warm Asparagus and Proscuitto Salad
The first step is to blanch some asparagus. Boil it for just a couple of minutes — you still want it to crunch — and then shock it in some ice water. The vegetables will stop cooking immediately and the vibrant green color will set. (You can reheat the asparagus in a saute pan later when you're ready to serve.)
Poach some eggs in 6 inches of simmering water and 2 tablespoons of white wine vinegar. Take a heavy spoon and stir the water in a clockwise direction to get the water moving in a circle and then slip the broken eggs into the water, one at a time. Poach for about 90 seconds. The whites should set and the yolks should be runny.
You can store the poached eggs in ice water until you're ready to serve them — just carefully reheat them in simmering water for 30 seconds to warm them up.
For the croutons, heat a little bit of oil in a saute pan and throw in a bunch of torn country bread. Thomas Keller suggests tearing the bread slowly to get beautiful, feathered edges.
Add a couple of tablespoons of butter into the pan and a smashed clove of garlic. Slowly cook the bread until it absorbs all of the fat. The croutons should be warm and crispy when you serve them — just remember to remove the garlic clove.
Put some thin slices of prosciutto on a serving platter, along with asparagus, poached eggs and torn croutons.
Drizzle the platter with aged balsamic if you've got it. If you have regular balsamic, just heat it up for a few minutes on the stove top until it's reduced, thick and syrupy. Top everything with a bit of Extra Virgin Olive Oil and a few pinches of kosher salt and cracked black pepper.
[/print_this]