Beneath maroon umbrellas in downtown Milford, groups of women are clinking cool glasses of rosé. Their male counterparts — all in collared shirts and khakis — erupt in a sudden fit of spirited laughter. A toddler, no more than 2 years old, bobs a purple balloon up and town before releasing it into the bright, ever-expanding, blue sky. Approaching 20 Brix on an early Spring evening, I feel like I'm living in a scene from Gary Ross' Pleasantville. At any moment, I fear I'll be snapped back to reality.
But I'm not. Once in the door, I am greeted immediately by a host who energetically offers me a seat on the patio. He assures me that the evening sun is warm and that the outdoor heaters are comfortable. I will even be cordially wrapped in a blanket, he says, if these hospitable amenities do not suffice. When his efforts still fail to woo me outside, he happily leads me to a charming window table in the main dining room.
Wine connoisseurs know that the Brix scale is a measure of sugar in a liquid. In wine, 20 brix happens to describe a relatively sweet, fruit forward variety –– a flavor that is pleasing to many palettes across the board. As a John Mayer pop song streams through the sound system, I become convinced that the restaurant's name is an appropriate designation.
In 20 Brix, owner Hunter Thomas has created an idyllic, neighborhood vibe. A cheery flower sits perkily in a shapely, tabletop vase. Earthy, fabric covered walls meet exposed brick. Orange sun gleams through square paned windows lined with dark wood. And when the wine arrives, everything is even better.
Thomas, who worked with Master Sommelier Ron Edwards to create an extensive, 150-bottle list, offers most of them in two and five ounce pours (though they often exceed this measurement). For $25 or under, wine enthusiasts can experience a flight of prearranged or hand selected wines that range from light and sweet to heavy and bold.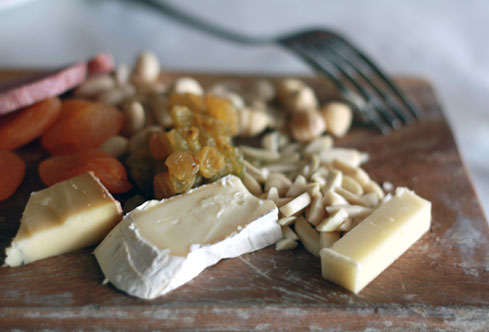 Within minutes of ordering mine, five sparkly glasses of wine line up before me like smart, little soldiers. The Conversation Platter — an assortment of Artisan breads, fruits, nuts, meats and cheeses — helps to break up the different flavors and intensities. It also helps me from falling out of my seat in a hazy, wine-induced stuper.
Paul Barraco, a Midwest Culinary Institute graduate, left his post at O'Bannon Creek Restaurant for the opportunity to step into the already established 20 Brix. His menu, a focused series of ten gussied up American and Mediterranean classics, capitalizes on simple, honest ingredients. The dishes aren't challenging; there are no animal organs to confront or imported ingredients from far away lands to identify. But the food is executed well. And if the restaurant's goal is to appeal to a wide audience, revved up hamburgers and crabcakes are the right thing to cook.
Also notable, Barraco capitalizes on fresh, local ingredients. Nowhere is this more apparent that in his Tanglewood Fried Chicken. Here, three pieces of tender meat are coated in a thick batter and deep fried until golden and crispy. Mounded on a heap of heavenly swiss chard, my only hesitation with the dish is the cheddar waffles and accompanying vessel of syrup. I know the chicken and waffles concept is riffing on a classic combination, but the syrup is almost too sweet for an entree course. Even so, I'd order the dish again.
I'd also consider the Steak Frites. It's a tender helping flat iron steak sliced and shining in melted, roasted shallot butter. And the freshly cut fries have collected the essence of steak jus and accumulated butter. I deem both dishes worth their considerable spike in cost as compared to other neighborhood restaurants. Complimented by the range of wine, they're good to the last drop.
As my friendly waiter clears the plates and picks up my bill, I take a last look around the room. In the next few minutes I will have to leave the low rumble of restaurant chatter and venture into the significantly colder night sky. Oh well. Even in the movie, utopia didn't last forever.