Biagio Lamassa, are you making a pass at me? With the low lighting and the opera music in the background, it sure seems like you are. Plus, you've gone to great lengths to make the room feel pretty intimate — tables are tucked into nooks, warm mustard walls are decorated with artwork. What exactly are you trying to do?
The truth is, Biagio's Bistro on Ludlow Avenue is trying to seduce the whole city. It's a charming, comfortable little spot and it's oozing with character. In the summer, you can see Biagio's Vespa scooter parked out front but in the winter, you'll have to make do with Biagio himself. Every single night, you can find him cooking up a storm of pasta in the front of the house.
Biagio's is one of the most romantic restaurants in town. But whether or not you agree with this characterization will have a lot to do with your tolerance for garlic. I guarantee the first thing you will notice when you walk through the door is its sweet, tantalizing scent. You'll taste it too — in just about everything you eat.
I'm not going to say the food here is the best Italian food I've ever put in my mouth, but there are items on the menu that are worth checking out. Like the Caesar salad. I've said it before, I'm a Caesar salad snob. But Biagio makes a great version and I make sure to order it every time. The tomato soup is equally delicious, just as anything is with a ton of heavy cream. Which brings me to my next point.
Fat. This restaurant is about filling your belly with lots of rich, decadent flavors. Absolutely no one cares about how much you'll weigh the next morning. And you shouldn't either because the heavy cream and the copious amounts of butter do their job. The bruschetta is crispy and the fettucine alfredo is creamy and cheesy.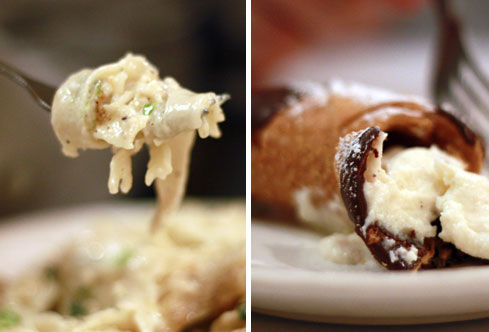 It would be a mistake to spend an evening at Biagio's without ordering desert. Displayed in glass cases in the front, they've got offerings that range from tiramisu to carrot cake. If you do nothing else here, order a cup of cappuccino and split a cream puff. They're encased in dark chocolate, topped with more chocolate sauce and sprinkled with powdered sugar.
With new restaurants springing up all over Cincinnati, it's nice to know that this classic bistro delivers every time. Next time you get a chill in your bones and want to be warmed by cozy ambiance and rustic Italian food, head no further than 308 Ludlow Avenue.