I understand the sea of black outfitted servers — all 12 of them who are looming over each table in Aroma like overanxious teenage boys on prom night. Because the restaurant is new, and with talent like Romy Jung back in the kitchen, big things could happen.
Still, I'm not quite sure I need another napkin — the one on my lap should last me all night. And I'm positive, yes positive, I do not need another drink just yet. If I'm being too slow, it's because I'm still trying to wrap my head around what's going on here.
And what's going on here is this: I don't know whether to order sushi, sea bass or a round of shooters for a dance party. Straddled between Nordstrom and the hollowed out West Elm at Kenwood Town Centre Mall, Aroma is part American, part Asian and part night club. To my right, women carry Restoration Hardware appliances; to my left, a sushi bar; overhead, a kaleidoscope of disco-colored lights. And then inexplicably, there's Maxwell crooning falsetto lullabies through the sound system. I feel like I've been taken to Disney Land, spun around a few times and then forced to draw a dizzy conclusion of all there is to see.
Thankfully, when it comes to the menu, my waiter offers some direction. Is it Asian? No. French? Not exactly. With selections like Eggplant Parmesan, Flat Iron Steak and 18 different kinds of sushi, we settle on on Fusion. "Don't worry," he tells me, "I get asked this question a lot."
When the crusty bread in gorgonzola wine sauce arrives, I think I'm being challenged to a game of Jenga. But two bites in and I can vouch for flavor. I'm not sure a carb-and-cream tranquilizer is the most appetite inducing way to begin a meal but the bread is spiked with garlic and the sauce is a velvet-laced dream. Still, nothing can prepare me for what's next: the braised beef short ribs.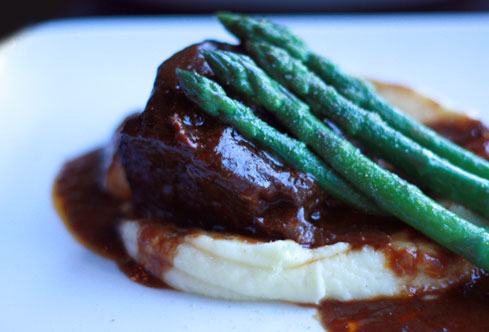 I don't care if I'm sitting in a room made of solid gold and filled with picnic tables — everything makes sense when I sink into the luscious bite of tender meat that so gloriously melts in my mouth. Here, a side of asparagus spears are treated as carefully as the main course — seasoned and cooked to perfection. And then there's the potato puree — silky and scented with truffle. My world starts turning with this dish, my faith in Aroma renewed.
Mr. Jung, I understand your predicament. Catering to wide, mall audience can't be an easy task. But if you're going to put the word sushi out on the sign, make it as exceptional as your entree items. I know this is a tough business but the schoolyard whispers are true. The sushi selection is just okay and equal (if not better) rolls of rice and crab can be found elsewhere.
Step out into the light. You don't need an overproduced ambiance, a dizzying whirl of gimmicks or an expansive menu to win this crowd over. Your talent in the kitchen is unparalleled. Your food speaks for itself.