It's generally a good idea to listen to the advice of others. If I had not listened to my sister in high school, I might still be curling my bangs under and wearing a side pony tail. Of course, the trick is to be able to tell good advice from bad advice.
Fortunately, when it comes to eating out, I have a lot of really faithful friends who know their stuff. These are the people who forage the city looking for the best bites and then come back with thoughtful, articulate recommendations. One such friend recently rhapsodized so poetically about Dusmesh Indian Restaurant in Northside, I virtually dropped what I was doing and hurled myself through its doors.
"Get the Baingan Bhuna," she told me. "And pay no mind to the old folks in the joint who refer to the place as 'Douche-mess.'"
So I did. And though it looked like a broken down motel from the outside, though the temperature once inside made me long for a warm vacation in the North Pole, I'm glad I did. (Note to staff: when the curtains are flagging in the wind like a hurricane is eminent, it's time to do something about that pesky draft.)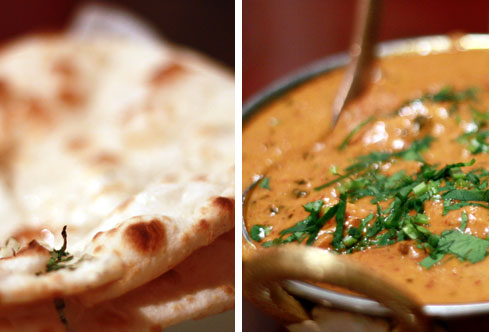 The naan was soft and pillowy, edged ever-so-slightly with a black char from the broiler. And when dunked into the velveteen blanket of sauce that was Baingan Bhuna, it was utter heaven. My dish, a collection of fried eggplant, onions, and peppers, was a gorgeous marriage of flavor. Rich, yes, but throttled with just a touch of low burning heat to round out the experience.
Here's the thing. What really set Dusmesh apart in my mind wasn't so much the Northern Indian cuisine, though it was absolutely worth the trip. It was the service. Because what they lacked in refinement, they made up for in friendliness. I say this as a fairly non-confrontational person who once had to haggle with an Ambar waitress over a perfectly good coupon they had printed but would not accept. At Dusmesh, the food came with a light smile and a genuine concern for our well being.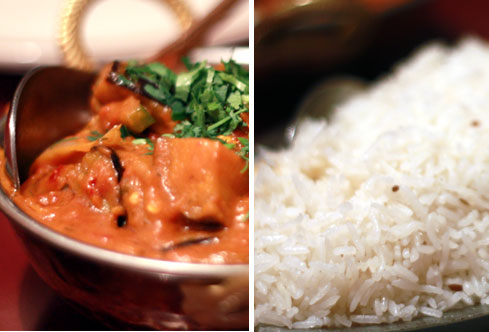 If you love Indian, if you love settling into your chair, bringing your own beer or wine and having an easy, fun night, check this place out. Squeezed into a lot across from Cincinnati State's main campus, it may not look like much, but it will surprise you.