From the outside, it's glowing. Like a hearth in some old-world Italian villa. Low lights reflect off orange and brown surfaces. Lots of wood. A little leather. It's also humming. Low chatters cut by strings of laughter.
I go through the door and confront a cluster of people waiting for a table. The mood is joyous and lively. It's a largely no reservations joint, which means I have to jockey for a seat at the bar.
The first thing I see is Peter Sedgwick, Enoteca Emilia's wine director. He nods. He must recognize me from his days as the wine guy at Via Vite. I drink a glass of Bronis Pinot Nero. It's light and fruity – like so many great Italian wines.
An hour and a half later, I'm finally ushered into the dining room. It's crowded and loud but for some reason I don't care. I'm in a hypnotic state. The menu promises Parmigiano Reggiano, Prosciutto di Parma and real balsamic vinegar.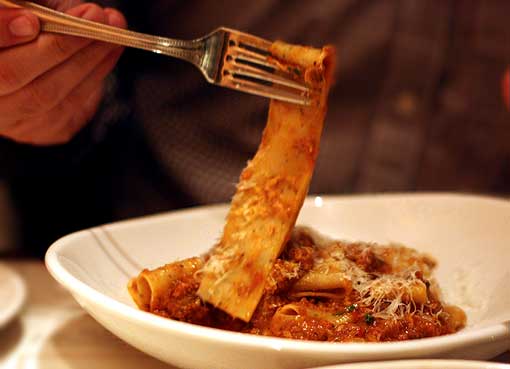 The food is inspired by the land and ingredients in Emilia-Romagna. Chef Jeremy Luers should know. He trained under Mario Batali at Babbo before he became chef de cusine here in town at Boca – and later at The Rookwood Bar and Grill. Now, he's offering small plates – meats and cheeses, figs wrapped in bacon, fried polenta, stuffed peppers.
And he's got spiedini – lamb, shrimp and chicken skeweres. Pizza, too. And sides like farro salad and roasted cauliflower. All of it is about comfort – the old world way.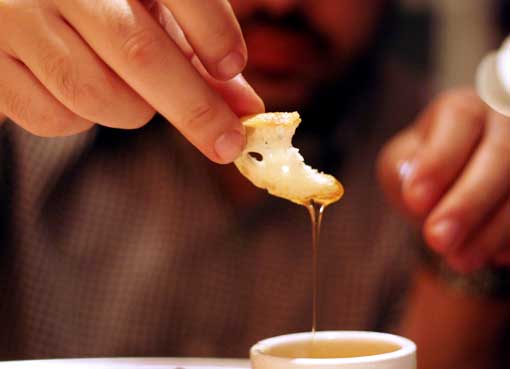 But it's the pasta that's gets my attention. Luers has mastered this fine Italian art form – perfectly al dente – not too dense, with just the right amount of snap and texture. The cavatelli is good. I mean really good. Layered with pork jus and hunks of pork belly.
And while pappardelle is just okay, it's revved up a notch, again because of the pasta. You'll be hard pressed to find better noodles anywhere in the city.
The service is spotty and there are still holes in the waitstaff's knowledge – but it's well meaning and it's no big deal. The place has only been opened a couple of months. A server's cracked cork – still in my bottle of Vinosia Taurasi – is rescued by Sedgwick himself. He's like a modern day war hero.
Like most artists – Italian and otherwise – Enoteca Emilia will need more time to relax and come into its own. (Especially given its considerable prices.) For now it's a must-visit neighborhood joint. A place worth your time and patience. Because all good things are worth waiting for.