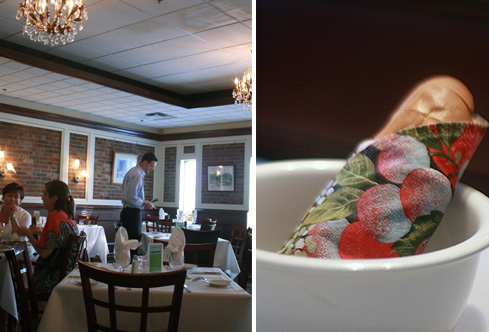 LA PETITE FRANCE IS BY no means a new restaurant; for over 25 years it's been plunked in an Evendale strip mall in a building that was once a commercial Pizza Hut. But over time, chef and owner Daniele Crandall has transformed the space into a fine-dining Parisian getaway.
Portraits of France hug exposed brick walls and white linens stretch under the graceful arches of chandeliers. With the smell of butter and roasted meats wafting from the kitchen, I almost don't mind that the sprawling panoramic of the Champs-Élysées is replaced by a view of Glendale-Milford road.
Dining here is good where good counts. Warm french bread is wrapped like a baby in a blanket and delivered to every table. Diners who break through the loaf's crusty exterior are rewarded with a gush of steam that clouds the air with freshly baked aroma-bliss. Meanwhile, water glasses are filled and daily specials are read by servers with exuberance and widened eyes. Wading through the extensive wine list requires extra patience but the well informed reap the benefits (while also emptying their wallets).
At La Petite France, Crandall has created an upscale menu steeped in authentic French kitchen philosophy; classically prepared sauces pair with fresh ingredients and are presented in a rustic format akin to Sunday supper. While the price tags are considerable, (entrées range from $17 to $34) dishes are carefully conceived and well executed.
If you're waistline cautious, you may want to plan ahead for this luxe experience; eating here requires an extra commitment to the taste buds. Famous for their crêpes, I recommend starting with the Crêpe au Fromage de Brie which is a brie cheese crêpe topped with béchamel sauce and gratinéed with swiss cheese. The Crevettes Sauce Boursin is also excellent — plump shrimp are sautéed with sun-dried tomatoes, corn and leeks in a tangy garlic, herb cream sauce.
Service is friendly and speedy but not rushed and servers are unpretentious and quick with a recommendation. For dinner, the classic Filet de Boeuf Sauce au Poivre, a grilled filet mignon in a rich black peppercorn red brandy cream sauce, is a sure bet. Prepared perfectly with a soft pink center and a hard pepper crusted exterior, it is reminder that classics are classics for a reason. The Saumon Sauce Endives (salmon with a white wine and lemon butter) is equally impressive and everything you want when you knowingly agree to consuming two sticks of butter.
My only regret are the vegetables, which are under-seasoned and underwhelming. A truly stellar chef applies as much attention to the sides as the main offerings and here, carrots and hericot verts fall flat. It's hard to hold a grudge for long. Jaws drop when dessert is positioned in the middle of our table. The banana walnut and ice cream crêpe is magnifique. Sweet and nutty flavors marry here in a gorgeous, assemblage of decadence.
Like the art that lines the walls, La Petite France is a window into a charming, French dining. For those who can't whisk away to Paris for the weekend, this little gem hidden in the midst of suburbia satiates the appetite for upscale French cuisine.