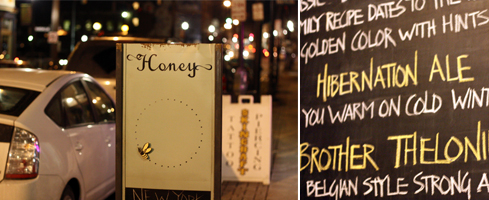 Imagine you have a friend who is soft spoken. Though she speaks in whispers, there's something about her that is confident, bold and unexpected. Her creativity and flare for the unique is what attracted you to her but it's her solidarity (her consistency and her loyalty) that keeps you calling.
Now imagine that these characteristics embody the spirit of a local restaurant. If an eating establishment could be personified in this exact way, it would be Honey, a restaurant nestled in the heart of Cincinnati's up and coming Northside community.
The interior actually sparkles with the flames of dancing candles and white lights strung over the bar. It's the kind of luminescence that would make Methuselah desirable, and incidentally, the kind of lighting I prefer.
The rotating menu is short and concise but covers a wide range of cravings and always features daily specials. The style of food can best be described as updated American cuisine using classical French technique and a farm-to-table methodology.
And while I know restaurant reviews are subjective, please consider the following fact: the tomato soup is fantastic.
It's not just that fresh taste or the lovely bite of bright acidity that comes with every spoon. It's the undercurrent of heat that rumbles through, climaxes and leaves quietly beckoning for more. (As it turns out, the ingredients that make this sensation possible are cayenne pepper, Shark Brand Sriracha and, as the waiter informs me, "top secret.")
Choose between menu items like herb roasted chicken on cannellini beans, braised beef short ribs over mashed Yukon potatoes, and creole meatloaf with tasso ham gravy and cracked Tellicherry mashed Yukon potatoes.
(Pictured above are the grilled pork chop, creole meatloaf and fries with chili lime honey.)
What's unique about the Honey experience is that the food is careful. A seasonal wheatberry salad is mixed with home-dried cherries. The fries are crispy on the outside and served with chile lime honey instead of ketchup. Even the dollop of butter that comes with the complimentary bread is infused with sweet shallots.
In the intimate space that was once the legendary Boca, Doug and Shoshannah Hafner have done an outstanding job creating a dining experience that makes customers feel like welcomed friends rather than a faceless diners. And the food, reflecting equal warmth and personality, is delicious from beginning to end.
Honey, is sure to warm the heart, interest the palette and fill the belly. Find it at 4034 Hamilton Avenue, Cincinnati, Ohio 45223.