Two years ago, key staff at Local 127 charged in from Las Vegas and settled into the legendary Pigall's restaurant space. But late in 2010, the bar closed to the public. Soon after, it seemed like the restaurant might, too.
Turns out the closing was a simple – yet brilliant – location change. Say what you will Martin Wade critics, but it was kind of genius.
At the former JeanRo Bistro, just across the street from Westin Hotel, 127 is now getting more foot traffic than it ever did at its old location on Fourth Street.
"Moving down here was my idea." Chef Steve Geddes says. Then, throwing his hands up in the air, he gives me a look that roughly translates to "Look around, lady, it seems to be working out just fine."
The ambiance finally reflects the approachable, down-to-earth dishes for which Local 127 has become known. Instead of sweeping chandeliers, you'll find low light, low chatter and mixed textures – with plush white chairs, big expansive mirrors and a rustic bar top.
The food? All American – with unexpected finesse. The confit chicken falls off the bone – and the yellow pickled chiles are something to behold: spicy and acidic – swiftly cutting through the richness of the crisped skin. And get this: the chicken actually tastes more like chicken.
An incarnation of potato skins so decadent, so comforting, I say unbuttoning your jeans isn't really a bad way to go.
Squash soup is swimming with complexity: sweet, creamy, hot in the back of your mouth – an effect that's hard to achieve in your home kitchen with a carton of cream and an immersion blender.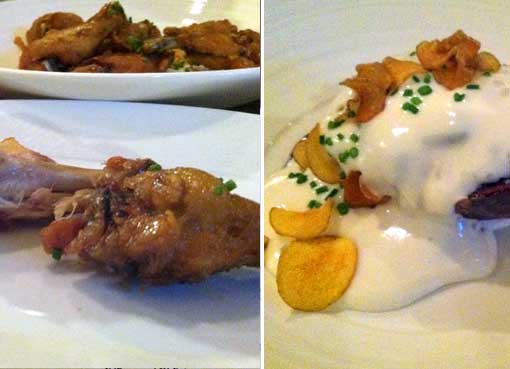 And the onion soup is what onion soup dreams of becoming – hot bits of cheese and onion plastered to the sides of the cup. So hot and bubbly, you don't wanna be the guy in the back scrubbing these things clean.
But what I really love about Geddes is his attention to detail. That means texture: every creamy bite is rewarded with crunch. (My arctic char is topped with sliced nuts and tiny home fried potato crisps.) And that also means wine. As a master sommelier, Geddes ensures that every sip integrates effortlessly into what you're eating.
You still got it, Local 127. Cool new digs and a drool worthy menu that finally feels at home.
So, have you been yet? Still planning on going? Give me your thoughts.